.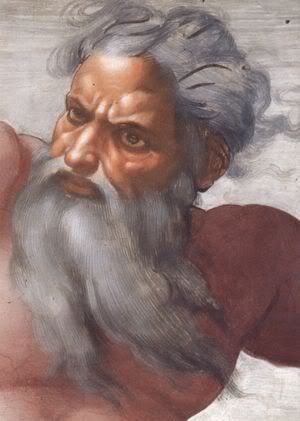 XUP's
recent post reminded me of a conversation Mr. Jazz and I had recently.
Jazz:
I have the proof for all those Christian right nutjobs that god does not exist, or that if he does he's far from perfect.
Mr. Jazz:
Okaaaaay.... and that would be?
Jazz:
Butts.
Mr. Jazz:
Butts?
Jazz:
Well see, god is supposed to be omniscient, to know all to have engineered man in his own image, eh?
Mr. Jazz:
....
Jazz:
Now look at animals. They poop, it falls out their butt, they keep going about their business. No butt cheeks, no fuss, no muss, and mostly, no mess. Right?
Mr. Jazz:
Um....
Jazz:
Now us, we
have
butt cheeks that screw everything up. Things stick, things smear; toilet paper has become a thriving industry because of our faulty design.
Mr. Jazz:
I see your point, but god?
Jazz:
Well if god was so perfect, you'd think he'd have ironed out the kinks a long time ago. And if we are made in his own image (cause god has to be a guy, a woman would have thought to fix this), this makes him imperfect doesn't it?
Ergo, since god is perfect, and this issue delves deep in the realm of imperfection, god must not exist - because according to judeo-christian thought, an imperfect god is an impossibility. Thus Darwin was right, it's all about evolution, and human evolution contains a serious kink, perhaps because we were too busy evolving our brain to evolve our butt. It might explain why humans are so cranky all the time. If we had a well designed butt, we might never even have thought of the concept of war!
On the other hand, maybe god does exist and has huge investments in toilet paper companies - in which case, the joke's on us.
.