.
Well there you go, Canada has finally decided to join the 21st - make that 20th - century by starting a
National do not call list
. It will be available in September and you will have to register every three years...
From the website:
Telemarketers will not be allowed to call you, and as a result, you should receive fewer unsolicited calls. Calls made on behalf of organizations or made for certain purposes as listed below, are exempt from the National DNCL rules:
- registered charities;
- political parties;
- nomination contestants, leadership contestants or candidates of a political party;
- opinion polling firms or market research firms conducting surveys when the call does not involve the sale of a product or service;
- general circulation newspapers calling for the purpose of selling a subscription;
- to a consumer who has an existing business relationship with the organization; and to business consumers.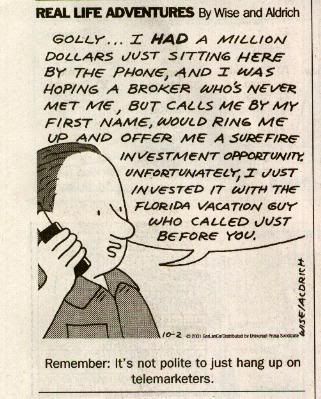 Now is it just me or is this going to change pretty much nothing at all? Because I don't know about you folks, but I don't usually get many calls from John Doe who wants to wash my carpets. Or even the guy with the great investment opportunity.
Most of the really annoying telemarketing calss I get are from - you guessed it - newspapers, polling firms and organizations with whom I already have a busines relationship, i.e. phone service, internet and cable providers as well as the bank who all find various wonderful reasons to call me at supper to offer me these incredible deals on services I neither have nor want.
"Because ma'am you really really need this service!!!!!!"
I'm thinkin' probably not. Most of the time when I really really need something, I can figure it out for myself.
Maybe I'm just being deliberately cynical, but I don't think the calls will diminish all that much.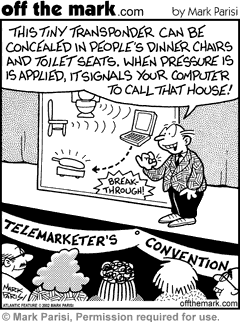 Of course I will register, just to see how efficient this list is.
I'll get back to you on that.
.