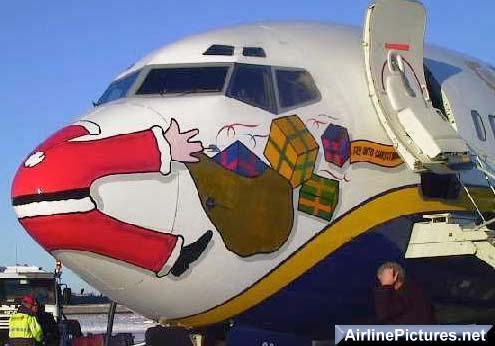 ...ooops. The Holidays isn't it? Cause it's all wrong and shit to say Christmas, because someone who doesn't actually celebrate Christmas might be insulted that we mention it. Which is a load of crap. I'm sure it's not the buddhists and hindus and muslims who are find Christmas insulting (other than as the orgy of consumerism it has become and which I find pretty damn distastful myself), it's the do gooder idjits who, in the spirit of not insulting anyone about anything
evah
are willing to wipe out all cultural differences and render the planet a horrible and boring place... But, this wasn't to be a rant. Besides, I'm not big on Christmas anyway so what the hell is my problem.
Aw what the hell, let's rant a little. After all this is probably my last post of the year seeing as I'll be on vacation until the new year... OMG, can we call it the new year? It's not the new year for the Chinese! Nor will it be 2008 for those of the jewish or islamic faiths. I won't be back until the day after the day before.... or something.
So. How's about a bit of correspondence?
=====================================================
Dear Lotto Quebec,
You have definitely risen to new heights in stupidty this time. Putting out a press release or something along those lines telling people not to give children lottery tickets for Christmas because it might make turn them into gamblers because of their impressionable young minds.
Well Duh!
Why would you give a kid a lottery ticket anyway? Children are simple beings. Their greedy little eyes do not light up at the sight of a lottery ticket. They'll be thrilled with nothing less than a Wii (whatever the hell that is - though apparently people like Wiis, but I'm a dinosaur so what do I know).
Actually I guess I'm not so much annoyed at you guys as at this whole societal thing we have going on now, where everyone is telling people how to raise their children.
"Don't give children lottery tickets."
"Even though it's the holidays put them to bed early, they still need to sleep."
"Don't let them drink enough that they won't be able to drive you home, especially if they're almost too short to reach the pedals." (ok, I made up that last one, but the two first were for real)

For good or ill, parents do still exist. Parenting is their job. Not yours. Shut up.
Mindboggledly,
Jazz
=====================================================
Dear Quebec Government,
Cigarettes. The evil evil cigarettes. According to the new law, cigarettes will have to be hidden under the counter in convenience stores and wherever else they are sold. People will not be allowed to point out the ciggies they want, they'll have to ask for them by name. And when the counter guy/girl/drone opens said drawer, the contents will have to be hidden from the consumer.
Now tell me, which brainiac civil servant had this bright idea? Seriously, I want to know which idiot is behind this.
I'm not a smoker but c'mon now, how stupid is that? Do you really think people will stop smoking if they can't see the cigarettes? If you do, you're stupider than even I, from the lofty heights of my utter cyncism, thought.
But what do I know. I'm just the idiot who pays you (speaking of stupidity).
Idiotically,
Jazz
=====================================================
Dear People who decorate their yards,
Those blow up lighted snowmen and Santas and other assorted nitwittitudes? So lame. As ornaments go, they were stupid at Halloween, they are still stupid now.
I shouldn't have to be subjected to that. Really. I'm thinking I might have to wander around with a knife.
Undecoratedly and grinchily,
Jazz
=====================================================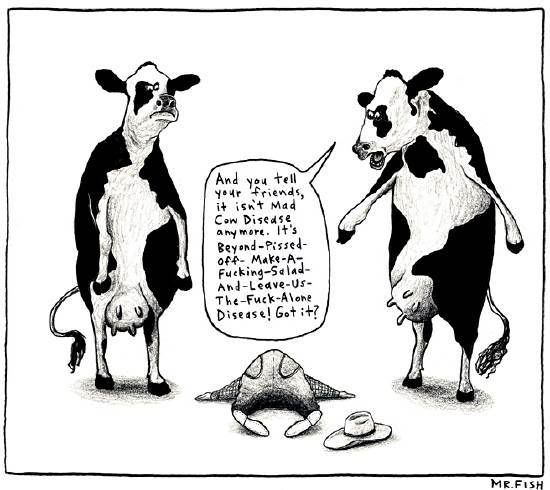 Dear Vegetarians,
Veggie smoked meat. SMOKED! MEAT! Ferchrissake!!!!
I need you to help me out here. If you are a vegetarian, it seems to me that you would want to steer (stupid pun intended) clear of meat products. No?
Then why in the name of every bit of food that has ever had parents are you (or at any rate enough of you to sustain a whole industry) pretending to eat meat? Why are you looking for food that tastes like meat? Veggie sausage, Tofurkey, etc
*
...
Could it be because secretly, somewhere deep inside you actually miss the evil old carnivorousness (I know it's not a word but it should be) the rest of us know and love?
Get over yourselves. I'll buy you a steak.
Carnivorously,
Jazz
Text reads: And tell your friends it isn't mad cow disease anymore. It's Beyond-Pissed-Off-Make-A-Fucking-Salad-And-Leave-Us-The-Fuck-Alone Disease! Got it?

=====================================================
Dear Rush Limbaugh
You are an idiot. You have raised idiocy to a whole art form. You are the idiot to end all idiots. You make the most stupid yahoo in the world look like Einstein. You make Cletus the Slack- Jawed Yokel
**
look good.
Thank you for making me feel perhaps more intelligent than I actually am.
Gratefully,
Jazz
* Though I will grant you veggie burgers. I love me a good veggie burger. My life is a search for the perfect veggie burger - but they don't try to taste like meat so that's ok.

** Thank you Matt Groening.
HAPPY "WHATEVER IT IS YOU CELEBRATE" (BECAUSE WE DON'T WANT TO OFFEND) EVERYONE!