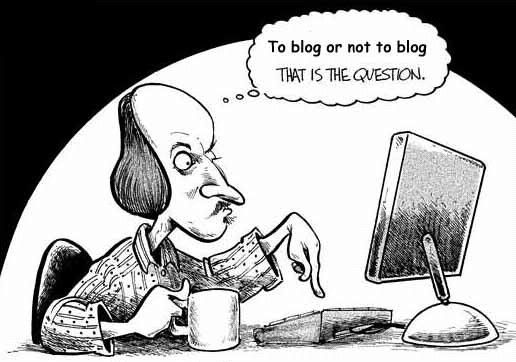 Wow. It's been a while. Not because I've been on vacation or any such thing - more's the pity. Nope. Simply.... because.
I'm still out there reading and commenting on other people's posts. Everyone seems so inspired and I love reading it all. I, on the other hand, seem to have hit the proverbial wall. Why I've been able to keep it up for so long and suddenly, in the immortal (or not so much) words of Emeri: BAM!!, I have no idea.
These two paragraphs have taken me two days, and I can't help but wonder if I'm all blogged out and will ever again find anything interesting to say. Hell, I haven't mutilated, sliced or bruised myself horribly in at least two weeks, so really, what is there is to say?
Obviously then, the question becomes why do I do this? Why do I want to keep blogging if there's nothing left to blog? Why do I like it? Why do I sit here and tell people all the drivel that wanders through my head?
And oh lordy people, there is much, much drivel flowing through my little mind. Yea indeed, drivel abounds, drivel washes through my head in waves. And when the tsunami passes, it dribbles.
Drivel dribbles. And alliteraition abounds.
I obviously don't do it for the fame, because god knows I'm not a popular blogger with my 10-12 comments per post (though I do love you guys, your comments never fail to amuse, plus I need amusing so comment dammit!), and 2 or 3 others who simply lurk (hello Divine Ms. M, hello Mr. Scoots).
I do it even less for the fortune -
Dooce
I'm not; Dooce the mommy blogger extraordinaire who makes a living off her blog (I actually typed "blot" there, Freudian slip perhaps? I liked her until the ads started popping up all over the place and I got sick of reading about poop, her poop, her daughter's poop, her dog's poop, the lack of poop - I swear people it was(is?) a fixation! Actually I started getting over the Dooce thing when she morphed into a mommy blogger. Me and babies? Not so much, eh? But I digress.)
I have a friend who's been trying to convert me to Twitter and I wonder if I wouldn't be better off there, cyberhome of inane drivel. But I just don't get it. Yeah, I'm that old that I don't get Twitting. What the hell is the point of it? Are people on Twitter called Twits, I wonder? If ever I become a twit, I'll do it all in haiku, I swear.
And so, in a fit of pique, and despite my rule of shutting the hell up if I have nothing to say (which come to think of it, pretty much covers the last four years of my life as a blogger, so lets change that to my rule about blogging to say I have nothing to say), I decided to unload upon you, my 3.5 readers, just to see if I could get back into the groove.
We'll see.
.