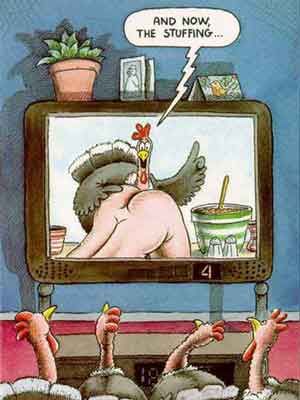 In this case the American Thanksgiving. You know the one at the end of November ('cause it would seem they harvest so much later than we do here in the GWN*). The one where people stuff themselves to bursting and get up ungodly hours to line up in front of the Walmart doors to be the first to stock up on all that Black Friday schlock. After all, exercise is good after such a hearty meal.
And what's up with a holiday on a Thursday. Holidays (other than Christmas and New Years) should always fall on a Monday or Friday. Thursday is sorta whacked. Just sayin'.
But I digress.
So,
Suldog
just posted about seeing Christmas displays in the stores. In his words:
If you believe, as I do, that Thanksgiving should play out before Christmas; that Christmas carols should not be heard on the radio before at least Thanksgiving evening; that advertisers who dare to encroach upon Thanksgiving - or, God help us, Halloween - with their hideous advertisements should be told in no uncertain terms that you will not shop at their est
ablishments; that malls who put Santa Claus on display before Veterans Day should be made ashamed of themselves; then please consider doing what I'm going to ask of you.


Should you be as incensed as I am concerning Christmas schlock, please post a "
Thanksgiving Comes First
" entry on your blog. Write from the heart. Everybody who visits your blog will know how you feel. Perhaps they'll also write about it, and so will their friends, and so on. I hope that, if enough of us do this, we might make some small impact.
Personally, I think Sully is a dreamer. But hey I saw my first Christmas display in AUGUST ferchrissake. That is beyond ridiculous! Atheist that I am, I really don't give a damn about the christian "little jesus born" aspect of Christmas. I like Christmas for the week of vacation I get. And the presents. Yeah, I'm shallow that way. In all honesty we could skip the whole damn thing (except for the weeks vacation, 'cause really, if I want a present I can buy it for myself) and I would be a happy camper. Christmas has become more of an obligation/annoyance than anything else.
But damn, I saw my first Christmas display in AUGUST! Granted, it wasn't a hot summer and someone might have mistaken it for fall - I'm ready to give them the benefit of the doubt, though I don't see why I should - but doesn't
anyone
flip the calendar anymore?
So: AMERICAN Thanksgiving comes first!!! Ours being on October 12, it wouldn't make much sense, and this post would have to be titled
A Month After Halloween Comes First
and it wouldn't make much of an impact at all, would it?
You have to wonder how retailers think. Do they honestly believe that people want Christmas junk this far before? I don't know anyone who will be buying twinkly little LED lights in August and early September when you can still be getting their greedy little hands on summer stuff for a quarter of the price. And let's face it, with the winters we get, the last thing I want to think about in September is Christmas and all it implies about winter and snow and slush and.... excuse me while I go hit my head against the wall now.
I have no problem with Christmas and it's place in the economy. Retailers love it. It saves some of them. But I fail to see how Christmas displays in September will entice people to buy more crap. But then I often underestimate the stupidity of the average consumer.
And so, I'm having my idealistic moment of the year (my one and only, and I reserved it for Suldog - he'd better be grateful). Perhaps if enough people do bitch about it they'll begin doing Christmas in November again. A woman can dream...
And Sully would see that it is good. And Sully would take a day of rest. And see that it was good. And pretty much shut the hell up.
OK, that won't ever happen in our lifetimes**. So much for my idealistic moment.
And thus, I reiterate:
THANKSGIVING COMES FIRST!!!
*
Great White North
**
Which is pretty much why so many of us are his devoted fans.
.