.

Disclaimer: Unlike Jocelyn's recent post, this one deals not with the bottom unmentionables, but rather the top

*

. Proceed at your own risk - Especially you BB, who knows if this is too much information for a big brother?
Well it's been done. Remember way back in February the Jazzer went
shopping
? Yeah, that wasn't a success.
No foundation garments were bought. And I was truly on the brink bralessness. Not that that would have been bad a few years ago (hell a few years ago I was the proud owner of not a single sling), but the girls (as mentioned those many months ago) are perhaps a tad less perky than they used to be despite their "petite" size. Unfortunately, age and gravity will win. Always. Like mother nature, age and gravity are bitches. Actually I'm sure the three of them are the inspiration behind Greek mythology's three Fates, and MacBeth's three witches. They are the evil triplets from hell. But I digress.
So. Another shopping trip was beyond necessary because... damned if the old harnesses hadn't passed into the realm of .... well. Dead. Deceased. No longer of this world. Yeah like the Norwegian blue parrot of Monty Python fame:
And thus the expedition had become not only necessity but a prerequisite to the continued perkiness of the girls. It says a lot of how I hate bra shopping when nary a one is to be found in the drawers either at home or at the cottage because, well, they've crossed over to the other side. They have passed on to a better realm. Amen and hallelujah.
Thus, when Mr. Jazz and I were doing errands and I spied a purveyor of lacy undergarments, I told my better half (you'll see why he's better soon) to go do something while I ventured forth into enemy territory, boldly going where so many women have gone before.
His answer?
"Why can't I come?"
My jaw dropped... "Feel free, but you'll be bored to death. It's bras ferchrissake"
Yeah I know, I was sorely underestimating a man's capacity for entertainment in a shop full of lacy, sexy undergarments. I'm stupid that way. So in we went. I picked out a couple and went to try them. As usual, no luck.
"Lets go"
"No, try this, and this and this"
And he proceeded to pick out about 10 of the repulsive harnesses and shoved me towards the fitting room.
The first: a T-strap thing that actually I had no idea even how to put on landed directly into the no pile. Much heavy sighing ensued.
The next : Damned if it didn't almost fit! Of the bunch, there was another t-strap contraption - how do those things work ? - and four scores! Four people!!
The Jazzer, she was ecstatic. Oh yeah. OK granted, they've got the padded thing going on, but damn, they fit! They fit!!! Does it count as false advertising if you don't have a choice? And no, mine are not double gels as seen below - those damn things weigh five pounds. Am I gonna haul five pounds of silicone around on my chest if it's not implanted? I think not.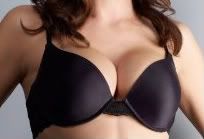 A double gel bra like this, for instance, is false advertising.
Well not really since nobody has boobs that naturally do that. And nobody is fooled.
And no those are
not
mine, but they are entertaining, aren't they boys?
And so, Mr. Jazz is now not only the official Jazz household cook, he has been inducted into the the world renowned OPLU (
Order of the Purveyance of Lacy Underthings
) and knighted Sir Foundation.
That's one more chore I can fob off on him.
YAY
*
Funny how our underwear posts tend to follow each other. Is there some sort of cosmic meaning to that?
.