.
Friday night at the cottage. Getting ready to warm up some falafel as an appetizer and then grill up the saffron marinated chicken we bought at
Akhavan
Montreal's kick ass Iranian market.
Unfortnately, it has been raining practically non-stop since May, and damned if the deck doesn't seem to be growing some sort of slime from being wet.
ALL.
THE.
DAMN.
TIME.
If I wanted west coast weather, I'd go live in Vancouver, eh?
Me: Be careful out there, the deck is really slippery.
He: No problem (as he proceeds to fire up the grill)
Me: Here are the falafel
I set them down on the BBQ, turned around and proceeded to fly none too elegantly (though come to think of it, I've never done
anything
elegantly in my life) through the air and land on the wet and slimy deck. With a thump. A decidedly non-elegant thump.
Of course.
Because I
had
just warned him to be extra careful. Luckily I wasn't holding the falafel at the time. They were saved, hurray!
Because it's all about the food of course.
But, since I believe that if you do something, you should do it right (and unfortunately my doing usually involves some sort of bodily harm), my thigh
*
is in rather less great a shape than the falafel were.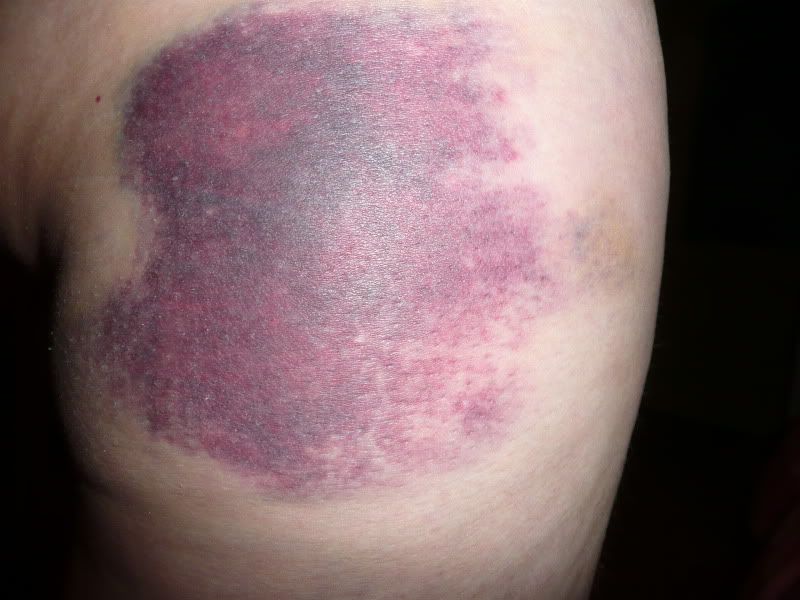 Who knew bruises cause copious swelling and stretch to 5 inches across?
Dinner, by the way, was delicious.
*
Weird angle, I know, but I figured that having my butt in the picture would be in the realm of

waaaay

too much information.


.