.
So now, let's turn right onto Parc (going south) and stop in front of the
Rialto Theatre
. it's a beautiful old movie place from the 20s and Mr. Jazz tells me it was designed by the same guy who did the Outremont. In the 80s and 90s it was one of Montreal's best repetory cinemas. And then, like they all did, it died. A few years ago, it was transformed into a steakhouse which folded pretty quickly. Luckily it's considered a historic site and as such is safe from being torn down like the Seville and the York and countless others, to be replaced by ugly condos. Of course I wouldn't put it past them to eventually gut it to make it into not so ugly (and extremely pricey) condos...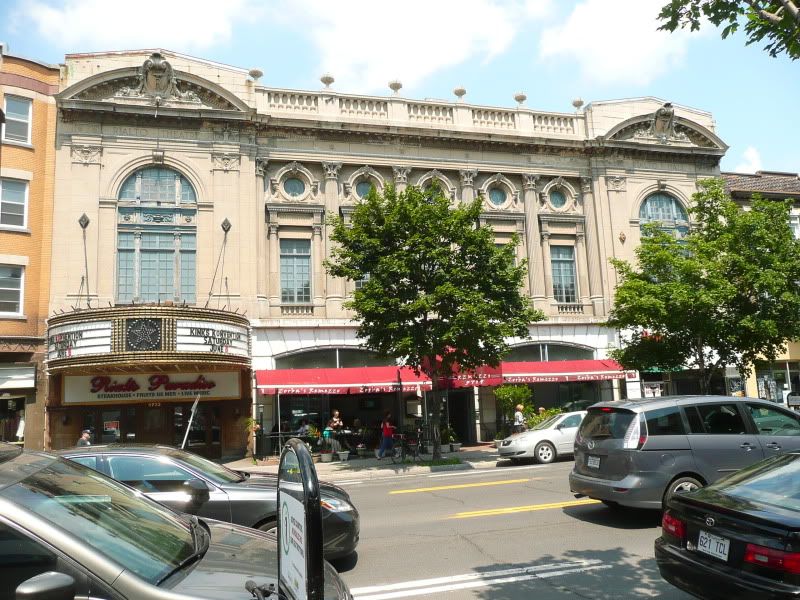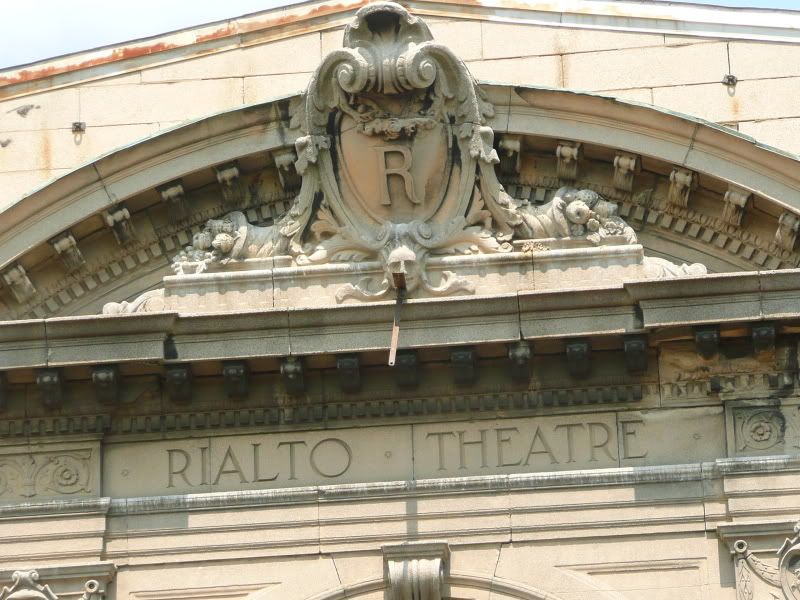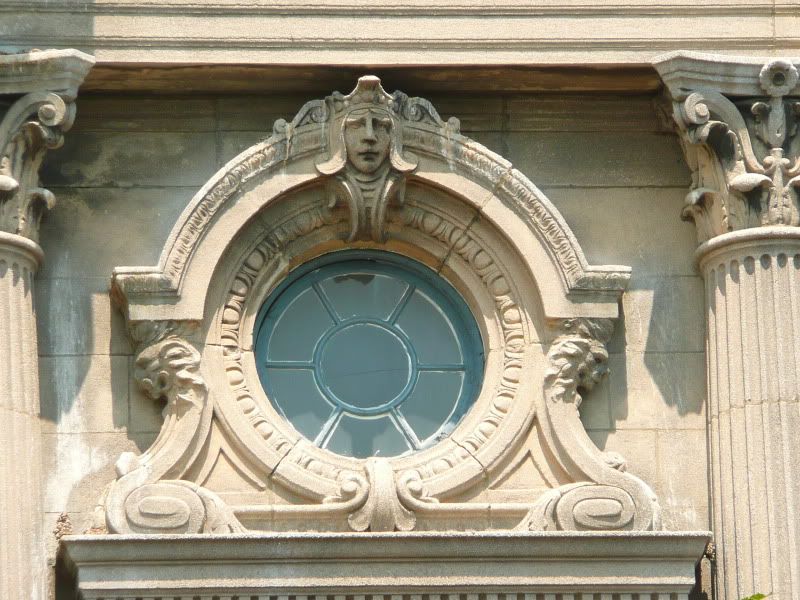 On the other side of the street you'll find the Épicerie/Fruiterie Mile End with its outdoor fruit and veggie stand. It adds colour and fun to the street...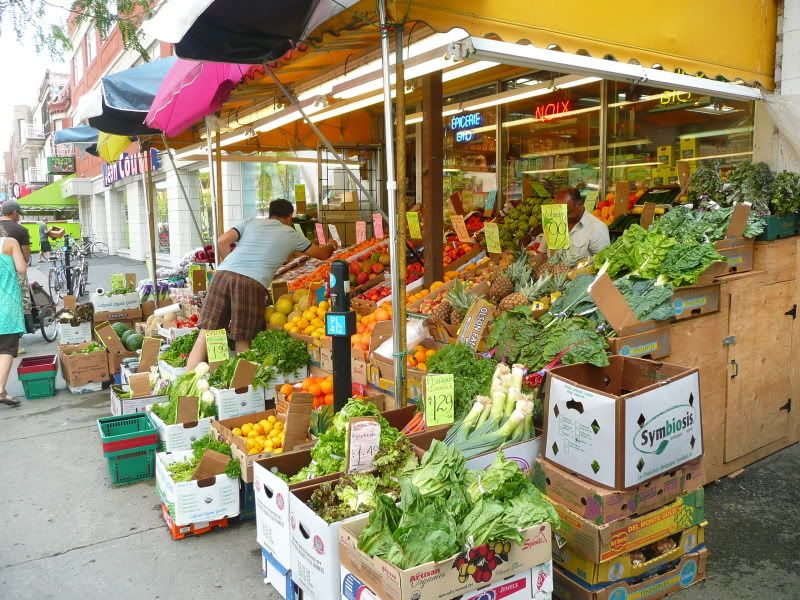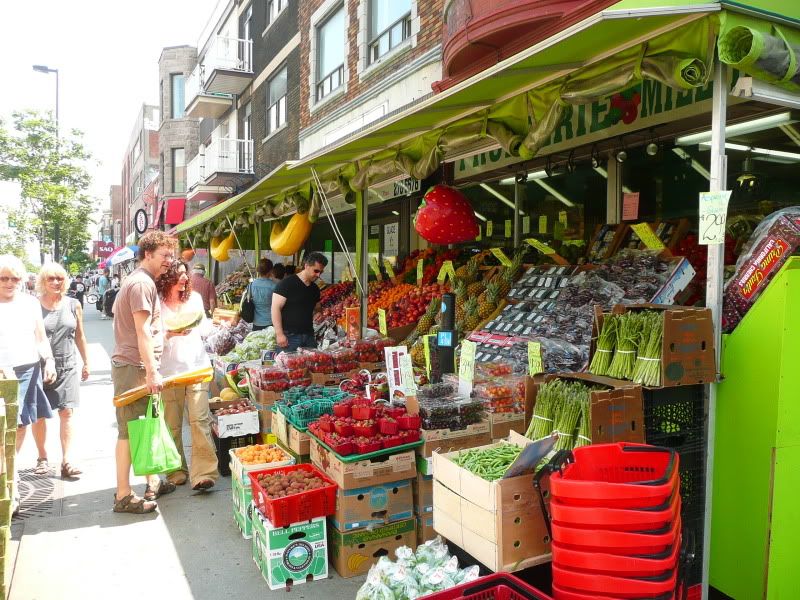 Don't they have a cool truck?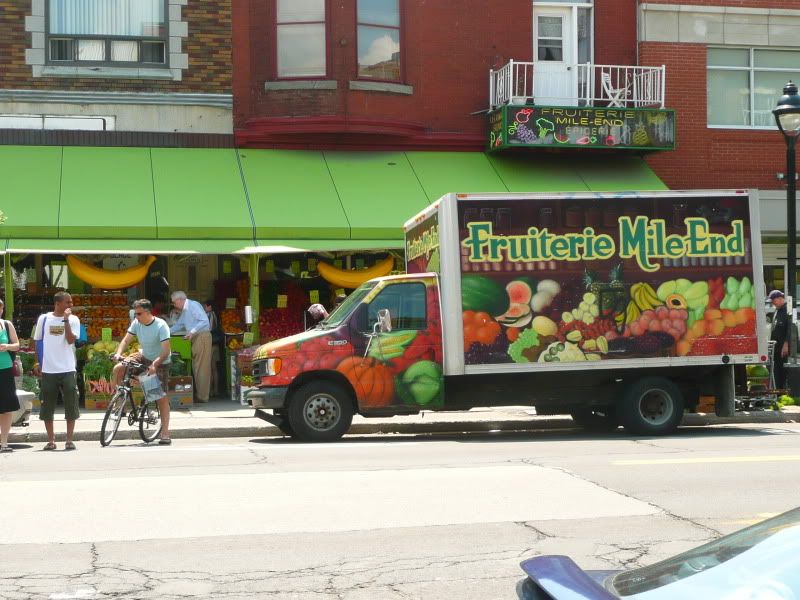 As we continue on south, let's stop at Aux Lilas (The Lilacs) one of the best Lebanese restaurants in Montreal. As a testament to it's goodness, in a town where restaurants often last only six months, no matter how good their reviews, it's been there for over 20 years now.
And I should've taken pics of all the Greek Tavernas around. Along with the Hassidic Jews, there are tons of Greeks in our area - and lots of wonderful Greek restaurants.
And for
Violetsky
, here's a pic of a café, the New Navarino - which can't be considered new by any stretch of the imagination, it's been there forever and then some. People go there for breakfast and coffee and a sit-down on Parc.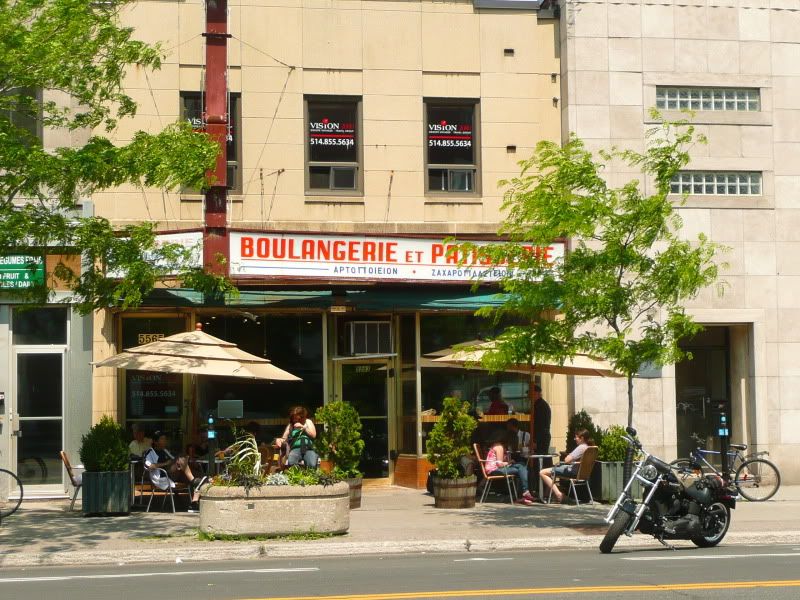 All righty then, lets pootle back on up to Bernard. Here is the street just west of Parc, along with Mr. Jazz in his orange barracuda shirt - damn I love that shirt. We're now officially in the
Mile End
.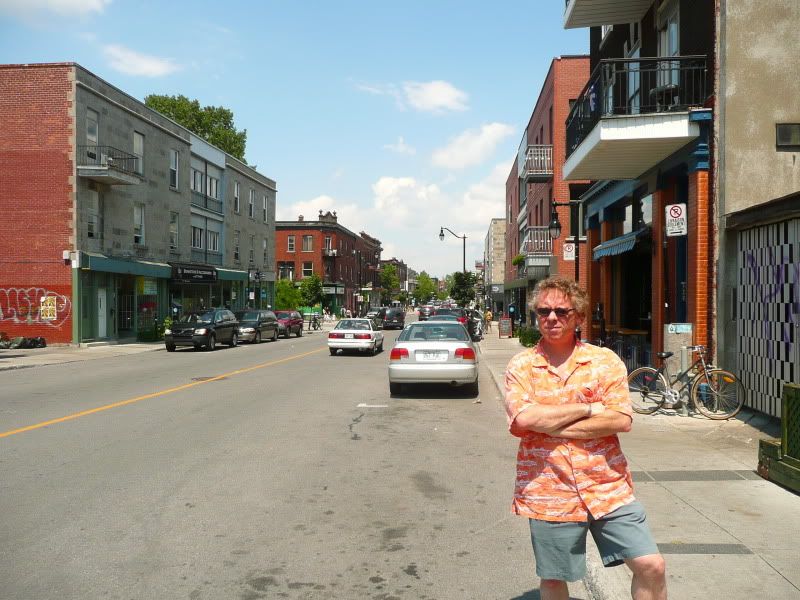 Granted, it doesn't look like much from this angle, but it's a great street. First stop,
Drawn and Quarterly
. D&Q is a comic book publisher based in Montreal. And they have this shop on Bernard. I try not to go too often because mayhem inevitably ensues with my bank account. How I love D&Q.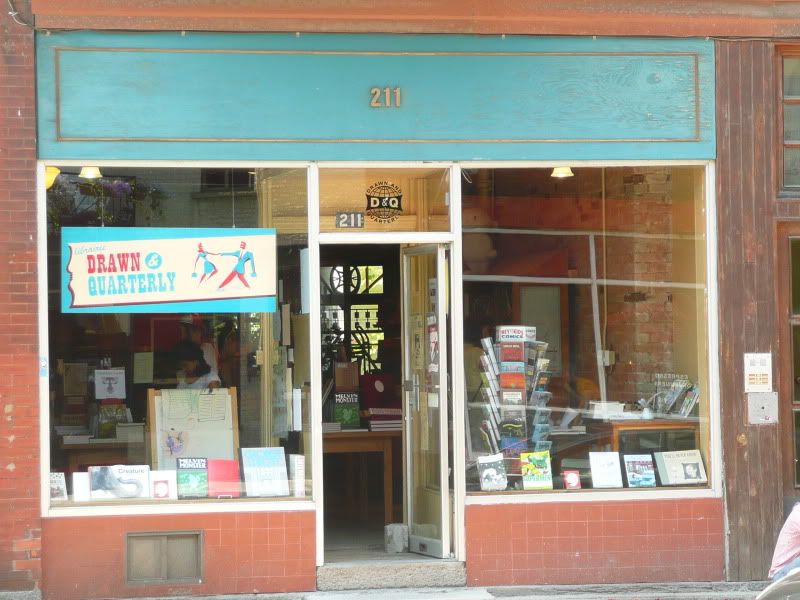 A little further down the street is
Senzala
- a great little Brazilian place that makes wonderful breakfasts - for instance their eggs "benedict" served on avocado or mangos rather than English muffins.. Sublime.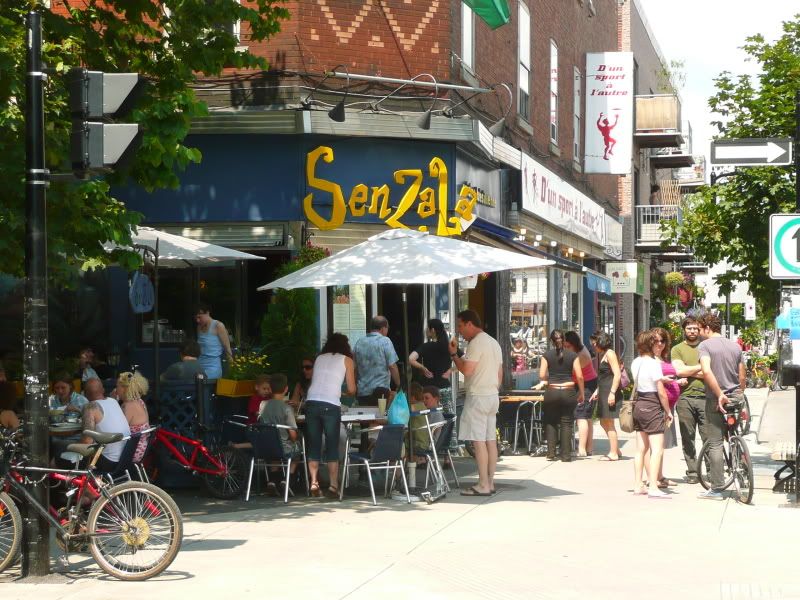 And the flower shop:
And another ice cream place - we like our ice cream in Montreal...
Well hell, we've reached
St-Laurent aka the Main
. St-Laurent divides Montreal between West and East, Anglo and Franco, rich and working class. It's the great divide, the separation between, what was called, at one time and maybe still is the two solitudes. The Main crosses Montreal in a South/North direction, starting in old Montreal and ending on the north shore of the island. This part of the Main is pretty dead, but I'm thinking of taking you through it from South to North and you'll see just how vital it actually is:
That, however, is a post for another day... Because for now we're stopping on the corner of St. Viateur and the Main for lunch at a great little vegetarian place, Esperanza.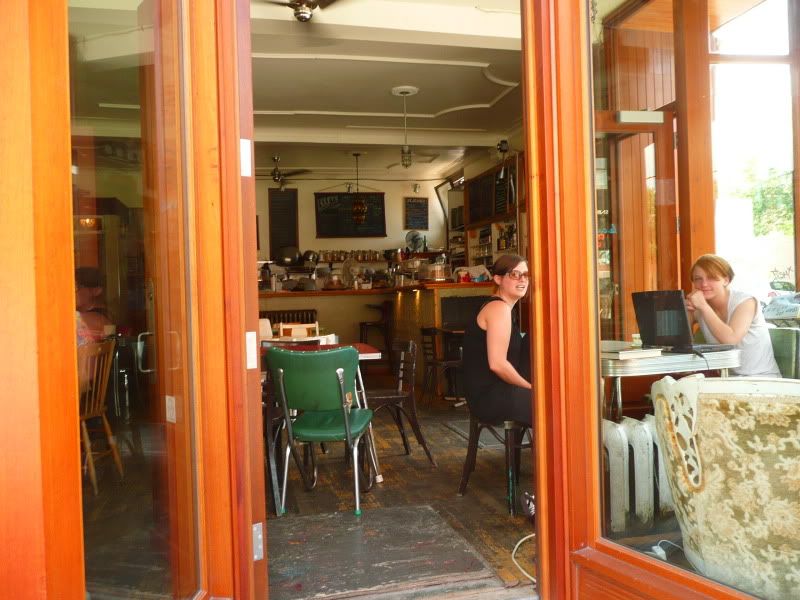 I had the best grill cheese sandwich on multi-grain bread with pesto and tomatoes. And no, I didn't think to take a picture before scarfing it down. And here I sit, contemplating the original tin ceiling, which could really do with a coat of paint.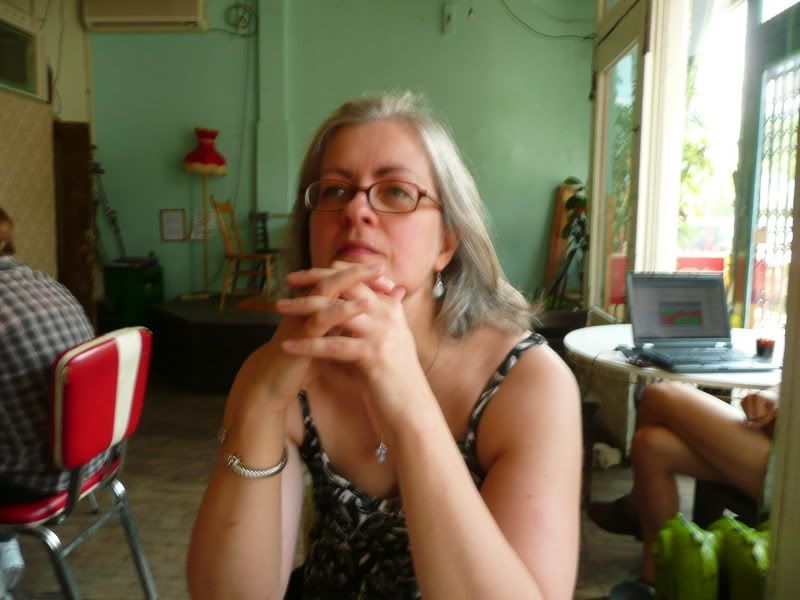 see?
While Mr. Jazz drinks his microbrew.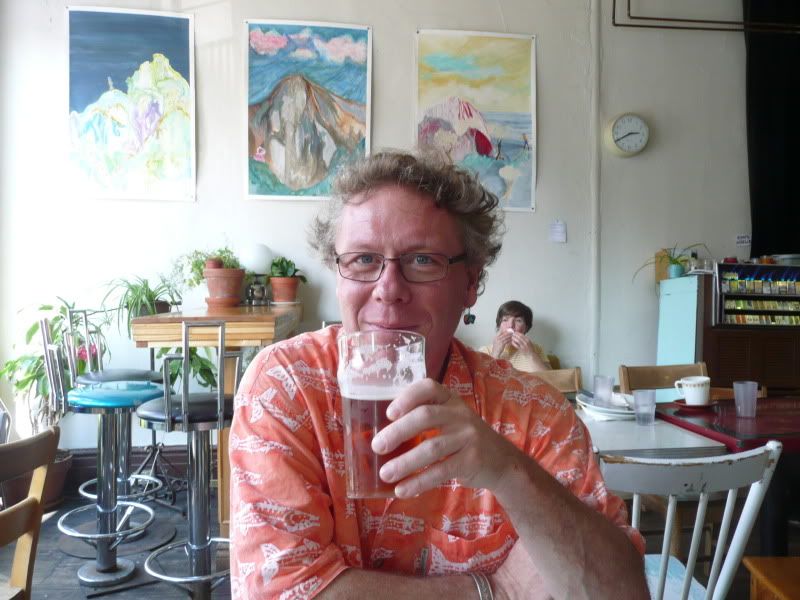 Which concludes this installment of the walk. It's time for me to have a drink. Next time: St-Viateur, more Parc and Fairmount streets. Cause you gotta do the whole neighbourhood before going on to another, eh?
Cheers all!