I've been pretty much incommunicado in the last week or so because of work. I'm swamped, I'm drowning and the last thing I want to do is type some more at the end of the day. Today however, Mr. Jazz sent me the link to an article that made my blood boil.
Steve Proulx of the free weekly newspaper
Voir
posted
this article
on the paper's website on Monday. Here is my translation/summary, as most of you don't read French I think...
Everyone Is Reading It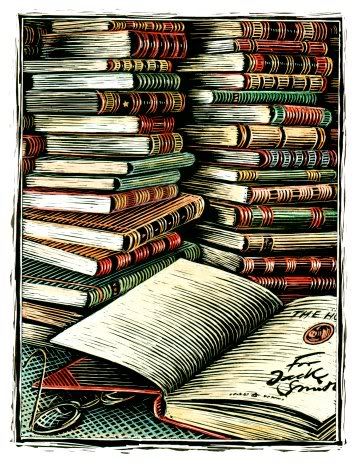 I'd like to pick up on this post from the Librairie Monet blog called The Economy of Consensus
(Sorry folks, it's also in French - Jazz)
The author (a bookseller) and I share the same malaise: the general curiosity about books can be measured in millimetres.
The blogger writes: :
"This summer, on vacation at the beach, I looked at what people were reading. It was predictable: Millennium, Fascination (the French title of one of the Twilight books - J) and Harry Potter. I feel like I have a plastic bag over my head. Are we condemned to all read the same thing? What happens to diversity?"

At the Salon
(du Livre - the yearly book fair where all the publishing houses gather to tout their wares - J
), I saw the same phenomenon.
The public has thousands of titles to choose from on just about any subject. Volumes from yesterday or today, inexpensive and expensive. Everything is there, the choice is theirs.
Everyone reads pretty much the same things
(he then goes on to quote a couple of Quebec novels and authors)
And of course those damned sexy vampires. Twilight = Sick. To. Death. Of. It.
(For the record, me too! - J)
This infatuation for a particular book is hiding something, I'm not sure quite what. Perhaps a certain insecurity about books in general? Rather than risk being surprised (or disappointment), because we aren't all bulimic readers, we'd rather go with the popular vote.
Everyone is reading it, so it must be good.
Because of this, though, I'm sure a lot of readers miss the opportunity to read a book they'll really like.
A book written for them.
Well, that was an interesting little exercise. I haven't translated in forever.
***********

What really annoys the living hell out of me here is the whole elitist "if you're reading bestsellers you're reading crap" bullshit.
I'm one of those bulimic readers. I'll give pretty much anything a try - from bestsellers to obscure Eastern European writers. I LOVE reading and can't imagine leaving the house without a book in my bag. I freaking get nervous if I do that - even to go to the corner store.
But.
I don't expect everyone to be the same. The point is, these people are READING! Which is better than a huge whack of the overall population. So what if they're reading bestsellers because they're bestsellers. True, there is some bestseller dreck out there, but there's also some good stuff. Does it really matter that they're reading a particular novel because everyone else is?
Besides, for those of us who like obscure Eastern European authors, those bestsellers bring in enough money for editors to actually publish them. They're not going to generate millions, but the millions generated by the latest Dan Brown or Grisham mean that all 300 of us can read Mr. Obscure. I don't like Grisham or Brown much, but more power to them if they get people to read - and enable me to read what I like. Hell, I love Stephen King, the emperor of bestsellers ('cause saying King, the king of... is just too repetitive), so who the hell am I to judge.
All things considered, all of society works the same way, doesn't it? People wear the same clothes, eat at the same restaurants, take the same vacations, buy the same Uggs (now there are some ugly ass boots, but hell, if you like them why should it annoy me?)
Standardization is part of our society and has always been. For all the Brontës (and XUP, I LOVED Wuthering Heights), how many obscure (now lost) brilliant writers were there in the 19th century? I'd venture to think quite as many as today, all proportions being kept.
I can't help but smile at the whole "Read! Read! Read! (but don't read bestsellers 'cause they're not Literature)" issue.
Cultural snobbery drives me insane.
.