And Noah went in, and his son,
and his wife and his sons' wives
with him into the ark, because
of the waters of the flood...
Genesis 7:7
++++++++++++++++++++++++++++++++++++++++++++++++++++++++++
Everyone knows it wasn't like that.
To begin with, they make it sound as if there wasn't any argument; as if there wasn't any panic -- no one being pushed aside -- no one being trampled -- none of the animals howling -- none of the people screaming blue murder. They make it sound as if the only people who wanted to get on board were Doctor Noyes and his family. Presumably everyone else (the rest of the human race, so to speak) stood off waving gaily, behind a distant barricade: SPECTATORS WILL NOT CROSS THE YELLOW LINE and: THANK YOU FOR YOUR COOPERATION. With all the baggage neatly labelled:
WANTED
or
NOT WANTED ON THE VOYAGE
.
They also make it sound as if there wasn't any dread -- Noah and his sons relaxed on the poop deck, sipping port and smoking cigars beneath a blue and white striped awning -- probably wearing yachting caps, white ducks and blazers. Mrs. Noyes and her daughters-in-law fluttering up the gangplank -- neat and tidy -- dry beneath there umbrellas -- turning and calling;
"goodbye, everybody!"
And all their friends shouting;
"bon voyage!"
while the daughters-in-law hand over their tickets smiling and laughing -- everyone being piped aboard and a band playing
Rule Britannia!
and
Over the Sea to Skye
. Flags and banners and a booming cannon... like an excursion.
Well. It wasn't an excursion. It was the end of the world.
++++++++++++++++++++++++++++++++++++++++++++++++++++++++++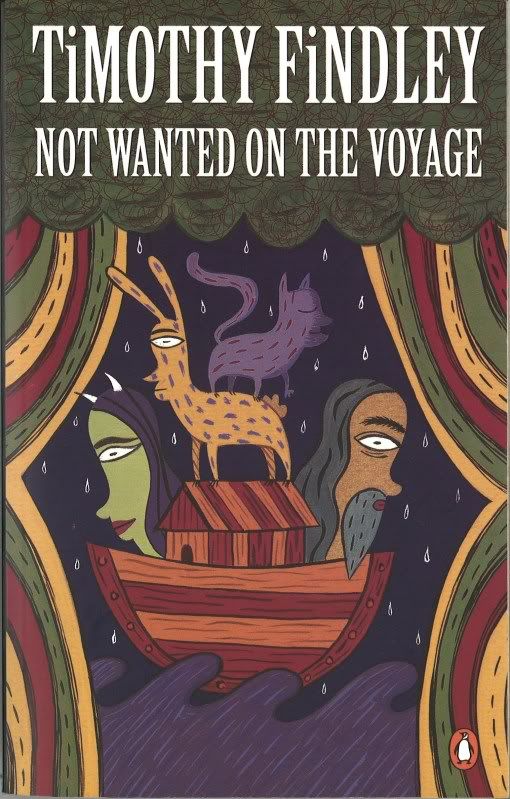 And that is the first page of the prologue of Timothy Findley's Not Wanted on the Voyage, a retelling of the story of Noah's Ark. I can't imagine how it is I missed this one for so long... Brilliant book people, if you're looking for something to read. Damn, I wish I could write like that. Not that I've ever been interested in writing a novel. But every page is a delight.