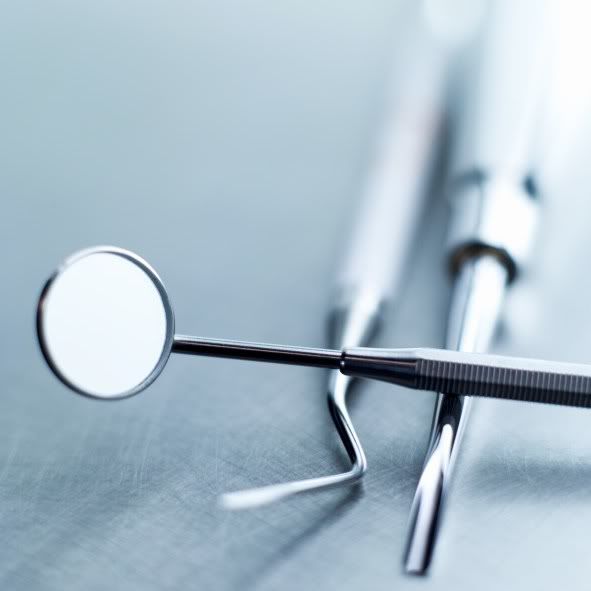 There are things I like.
There are things I like immensely.
There are things I do not like at all.
I like certain things in my mouth. However, these things tend to be things I put there myself - like food.
These things do not include metal picks and water spraying ultrasound thingies, plastic vacuum cleaners and little round mirrors.
Nor do they include rubber clad fingers poking around.
Nope. Not a fan. Truth be told, these things disgust me beyond what would be natural for some reason. Having this crap in my mouth makes me want to hurl. This is not good when you're lying in a chair with your head lower than your feet.
The buzz of the ultrasound inside my brain. The scrape scrape of the... oh god whatever they call that thing along my teeth which is marginally (but only very very marginally) better. OK, no it isn't, It's nasty as all get out. I was trying to be positive but I was shuddering as I wrote it. It lasted less than an hour but felt like forever at least. I can only imagine the hell it must be for those with lots of tartar buildup.
I hate dentists. I hate dental hygienists. There is a special place reserved in hell for those people. Probably as assistants to the Evil One. Come to think of it, Satan is probably a dentist.
All in all, not the best way to end a day, espcially after spending two and a half - no, actually two hours
and 42 minutes
(!!!) taking the minutes of the mostest useless meeting evah! It could have been over in an hour tops had they just stuck to the stupid ass agenda... But that's work. It has no business here.
Thankfully Mr. Jazz had trout and salad waiting for me when I got home. It reconciled me with life in general.
But not dentists. Never ever dentists or the hygienists from hell.