.
Bonnie, of
Original Art Studio
has just graciously bestowed on me the Over the Top Award. I don't quite get how whole girl in the apron is over the top, but Bonnie didn't conceive it, she just passed it on so I won't demand an explanation. The only thing I can think of is that the person who came up with this must have a boring life indeed if wearing an apron (with clothes underneath no less!) is to be considered over the top... Of course, me in an apron would definitely be over the top - y'all know about me and kitchens - not so much, right? But that's a whole other non-award thing.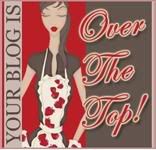 Honestly, I'm not quite sure whether this is an honour or whether Bonnie has decided she hates me because this one involves a LOT of work. But seeing as I'm Blogless inMontreal - as opposed to Sleepless wherever, here we go...
The rules are:
Copy and change the answers to suit you and pass it on. It's quite tricky to use only one word answers! Once you have filled it out be sure to pass it on to 6 of your favorite bloggers. Alert them that they have been awarded! Have fun!
1. Where is your cell phone?
Nowhere
2. Your hair?
Grey
3. Your mother?
Wise
4. Your father?
Dead
5. Your favorite food?
Edible
6. Your dream last night?
Rock bands and motels (granted, it's more than one word, but there's no way to distill it to one word. And as for the dream... don't ask.)
7. Your favorite drink?
Blood
8. Your dream/goal?
Breathing
9. What room are you in?
Office
10. Your hobby?
Living
11. Your fear?
Winter
12. Where do you want to be in 6 years?
54
13. Where were you last night?
Um
....
14. Something that you aren't?
Male
15. Muffins?
Sure
16. Wish list item?
Python
17. Where did you grow up?
Around
18. Last thing you did?
This
19. What are you wearing?
Clothes
20. Your TV?
Off
21. Your pets?
Dead
22. Friends?
Some
23. Your life?
There
24. Your mood?
Altered
25. Missing someone?
No
26. Vehicle?
Yes
27. Something you're not wearing?
Leather
28. Your favorite store?
Book
29. Your favorite color?
Red
30. When was the last time you laughed?
Today
31. Last time you cried?
Saturday
32. Your best friend?
Imaginary
33. One place that I go to over and over?
Loo

34. One person who emails me regularly?
Viagra
35. Favorite place to eat?
Plate
That was ridiculously long - even for one word answers...
My six:
Choochoo
- cause she's more than slightly insane, bored out of her tree and this might undull her for five minutes.
Lime
- cause she's great at memes. Seriously, have you ever seen what Lime does to a meme? It's almost scary.
Suldog
- cause he's, well, over the top. Plus he does wonderful things with awards - namely rip the person who sent it to him to shreds. I'm a masochist I am.
Geewits
- her brain is a marvelous place. Plus she'll keep it for herself and not pass on the agony.
Fragrant Liar
- well, you read her birthday post. What? You didn't ?? Get yourself over to her blog right away!
Jocelyn
- Read her stories. You'll understand.
Rachel
- 'Cause she seems to be into lists this week, and this could be construed as a list if you have enough imagination.
Yeah, I know, that's seven. I took the time to answer 35 dumb questions, so I have earned the right to do as I please... Rules Schmules.
.