.
I'm doing it too - with slight edits. Seems everyone is recycling Christmas posts. It's the perfect time for regifting after all - especially those posts that were written before the advent of readers in this blog: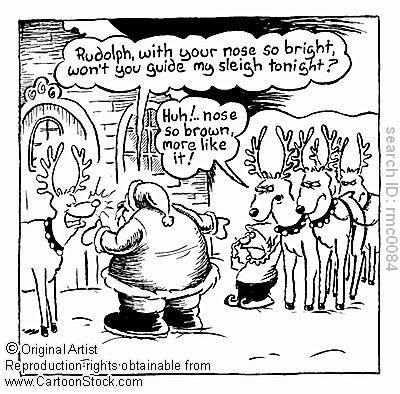 Rudolph, the red-nosed reindeer
had a very shiny nose.
And if you ever saw him,
you would even say it glows.

All of the other reindeer
used to laugh and call him names.
They never let poor Rudolph
join in any reindeer games.

Then one foggy Christmas Eve
Santa came to say:
"Rudolph with your nose so bright,
won't you guide my sleigh tonight?"

Then all the reindeer loved him
as they shouted out with glee,
Rudolph the red-nosed reindeer,
you'll go down in history!
Now, I ask you, is this crap or what?
They hated him because of his difference, because of his red nose. Because he was a serious drinker, and a nasty drunk perhaps? Unless he had roseacea - they really should be more specific...
Point is Rudy was an outcast. And one night, because of the fog, he's shown favour by the fat man in red and suddenly all the other reindeer love him? I think not.
Au contraire. It would annoy the hell out of the others that he of all reindeer has been picked as the leader. The outcast as boss? Um, don't think so. Or at any rate they wouldn't be shouting out for glee. Grumbling and bitching? Definitely

And a red nose does nothing in the fog. If it were yellow, it could help, but red? Not so much, so what's up with that?.
You might point out that I'm anthropomorphizing these animals, but hey, I didn't start it - have you ever seen a reindeer shout out with glee? I rest my case.



Thus I feel safe in assuming they act like humans all the time - which is rather fucked up in and of itself, but that's a whole different ballgame (or reindeer game as the case may be).
.