.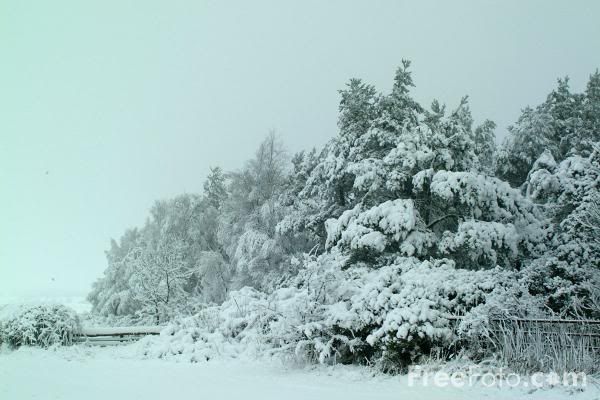 Oh yes. Indeed it is. It's snowing on Montreal.
You all know my feelings about the proverbial white stuff. I've never made a secret of it - not a big fan of winter.
Unfortunately, unlike most of her green batrachian kind the Jazzer can't just dig under the mud and hibernate for a few months. It's that whole damn earning a living thing... Not a big fan of earning a living either. It's highly overrated.
And so.
It's snowing on Montreal. Coming down like there's no tomorrow. Or today. Depending on the media and how given they are to blowing stuff out of proportion we're expecting anything from 10 to 35 cm of snow (you Americans can convert it yourselves, there are tons of handy metric converters on the internet, gotta love the internet for sparing us the bother of calculating it in our poor overworked heads). Is it just me or is there a
HUGE
margin for error here? It's like weather prediction in the 21st century is still a crystal ball thing.
Most likely, we'll end up with something like 5 cm.
Aside: OK, I did it. I'm anal that way. I couldn't just leave it. So we're expecting anywhere from 4 to 14 (give or takes) inches.
And so.
People will be acting as if they've never seen snow before today. As if this were a first. As if they and their ancestors and the ancestors before their ancestors all the way up to the first moron off the boat who thought it would be a wonderful idea to settle here didn't get masses of snow every winter. Hell people it's not like you don't
KNOW
what winter is all about. Get over it!
Except me. Cause I don't bitch about the heat so I can bitch about winter. So there. Them's my rools.
And so.
Schools were closed already this morning before the snow even started. In case. I remember when schools would be closed only if the storm had already hit overnight. Yeah, I know. I know. I'm becoming my "back-when-we-were-kids" parents. You know, the you-young'uns-have-it-so-much-easier school of thought. In my defense, several people at work said the same thing when they got in. Either we're all getting old or everyone is a wuss today. Even in the latter case, we are all getting old regardless.
Sometimes I wonder, since it's getting so much easier for each subsequent generation, how mankind has actually managed to survive thus far. The mind boggles.
And so.
Traffic will be hell tonight; lots of people with no winter tires yet - because remember, we never get snow here in December, and everyone will be all traumatized that yeah, it's actually happened, we've gotten snow.
On a day like this, there's something to be said for public transport.
And so
Tonight and tomorrow it'll be news. Headliner on radio and TV. Front page in the papers. Because lordamighty we actually got snow in Montreal. SNOW!!! Who'da thunk it? Goddamn! It might actually displace Tiger and his ever more numerous female companions who keep oozing out of the woodwork.
People are morons.
.