At least I have an excuse; I was on vacation all last week. Now my brain is numb from the misery of being back in the office. Not that I loathe my job mind you, it's more a case of I'm "just not that into you" on the first day back. And now:
- The area where I work smells of poo today. The chi-chi area of town. It smells like poo. Go figure…
- The ladies who lunch, still lunch and are still annoying as hell.
- I can't help but find it totally surreal that the nuclear powers of the world are screaming about the non-proliferation of nuclear arms now that Korea has it. "No more nuclear arms! You have no right to have them!" I don't hear any of them saying they'll get rid of their own though. Is it just me or is there a certain irony there?
Not that our friend Kimmy should actually have nuclear arms. The man is a fucking lunatic. But what are more sanctions gonna do? Simply make North Koreans' lives even more difficult. Kimmy? He's not gonna feel the pain. At. All.
- While we were gone, road tripping on those wonderful American roads, an overpass collapsed in Montreal, killing five. A few weeks earlier, the government was saying how Quebec roads were in great shape – obviously these people don't drive from place to place, they fly. This is the second overpass to collapse in the past 5-7 years in the Montreal area. You'd think we live in a fuckin' third world country. Roads disappear all the time in Nepal – but that's because mountains sorta slip onto them… (OK, well blogger refuses to add a picture here - but I'm sure you can imagine what a collapsed overpass looks like)
- Montana is beautiful. I could live there. Lots of space, very few people. Huge sky, way more horses than people. Did I mention very few people? I'd have no trouble living in a place where six horses live in my neighbour's yard. Look at this! I rest my case.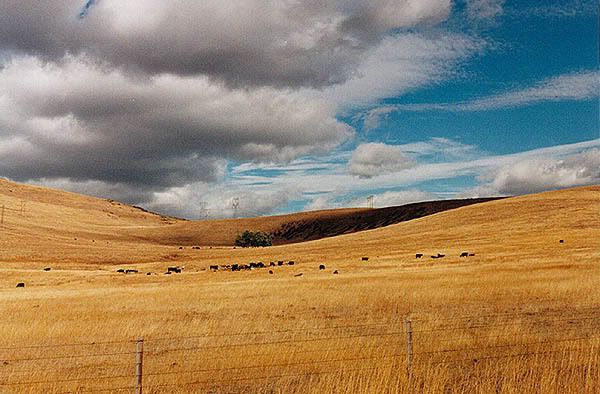 Of course, once I got a hankering for the city I'd no doubt be miserable, but there you go. I'm an idiot that way.

- For all those who think me a cynic, I recently read somewhere that a cynic is simply a disillusioned idealist. Just sayin'.