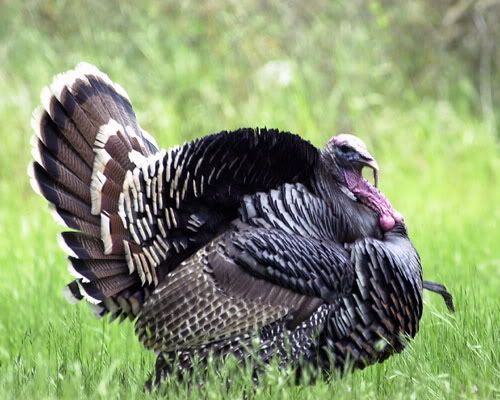 Today is that most special of holidays down there in the good ole US of A, Thanksgiving.
That holiday more important than Christmas. The holiday of stuffing one's face and watching football.
'Course Canadian Thanksgiving follows pretty much the same agenda, except, I think on a much smaller scale - here in Quebec at any rate. And I'm not sure about the football thing. I'm never sure of anything having to do with football since it's totally off my radar. Except real football (i.e. soccer). England was just eliminated from the qualification race for this summer's Euro. They didn't qualify!! But I digress don't I?
The most important aspect of the holdiay for me is a day off. And unfortunately since we celebrate T-day on a Monday, it makes for only one day off instead of the two most Americans get since they had the brilliant idea of doing it on a Thursday. That, in my book, was a stroke of genius.
Of course, here in Canada T-day is celebrated a month and a half earlier; surprisingly perhaps, at harvest time. Go figure.
The most bizarre aspect of the whole Thanksgiving circus for me is the presidential pardon. I mean seriously, what the fuck is with that? Who gets to choose the turkey? What are the criteria? Why this turkey rather than the next, and more to the point, what are they being pardoned for?
Isn't a presidential pardon granted to someone who is guilty of something? Aren't turkeys too damn dumb to be guilty of anything except being edible - which isn't their fault at all actually.
And isn't the irony of one turkey pardoning another just a bit too much? Will they pardon Dubbya next T-day?