While I was blogged out last week I received several questions, 'cause I guess people are nice that way about helping me out. Although more probably they gave me the questions to shut up my whining already.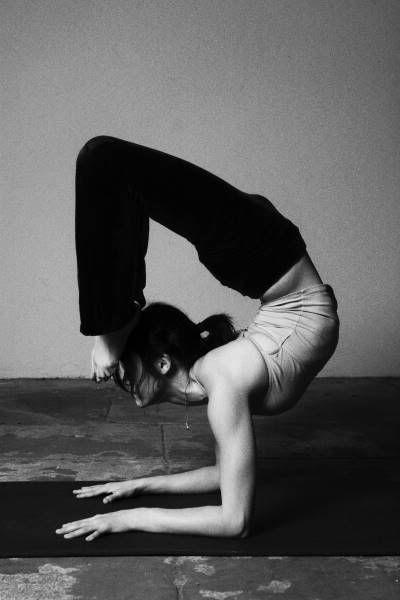 Rhea over at
The Boomer Chronicles
asked me:
"What is your favourite yoga position?"
That would be it right there*, presupposing of course that I had enough flexibility to actually
do
yoga without shattering into a
million
shiny shards.
'Cause pretty much that's what would happen. I would pretzelize myself and explode.
I've been thinking of
doing
trying
muddling my way into yoga for some months now. Actually since my friend S came back from San Francisco. She and her man are avid yoga-
ers
. I'm told it's good for relaxation and to focus your mind (that's an interesting concept right there, actually being focused).It's good for flexibility (as proof : that girl there who is so not me). Besides, I'd have the perfect excuse to buy a really cool, expensive and apparently wonderfully comfortable pair (of the I'll-never-take-these-off-again-so-don't-even-try-to-get-me-out-of-them-because-I'd-have-to-hurt-you-real-bad variety) of
Lululemon
yoga pants. That alone might get me into the yoga thing. How very shallow of me, yep.
I'm not sure how I'd do with yoga though, for several reasons.
As I mentioned, flexibility is not my strong suit. At. All. I'm probably a touch less flexible than a steel bar, so sitting on a mat downward dogging, saluting the sun, cameling, full one-legged king pigeoning, scorpioning like that girl there, and generally tying my legs in knots behind my head would not be among the most relaxing activities for me. The names of the poses are a cool though, especially the "full one-legged king pigeon"...
Then of course there's the meditation aspect of yoga. I've tried to meditate. You know the whole, "gently push your thoughts away as the float through your mind" thing. My thoughts don't float through, they jump in like kids dive bombing in a pool, sink to the bottom and float up again. I found myself screaming "go away, I'm trying to gently push you out and you won't leave!! Go before I have to hurt you!!!" inside my head and metaphorically going after my thoughts with a machete, trying to hack them to bits. I believe that sort of defeats the purpose, right?
The last time I took up an physical activity in order to relax it was
Tai
Chi.
Interesting
experience. All those slow
choreographed
movements. By the end of the class I wanted to run screaming from the room in frustration. Damn, it should take only about 10 seconds to do those ridiculous little dances rather than over a minute each. As though the whole point was to waste as much time as possible. I dropped out. I think I must've been negatively vibing the class. And I felt guilty at not feeling super relaxed like the rest of them claimed to be by the end of class. This said, I'm sure several of them were lying through their teeth. Probably even the teacher.
And yet, despite my frustration with "lets-all-be-mindful-and-zen-and-new-agey-and-drink-weird-ass-teas-rather-than-the real-black-stuff-with-caffeine" activites, I'm not outside running around and playing basketball. Nope I'm probably the laziest person on the face of the planet. Go figure.
Um, yeah, so ... yoga. Sorry Rhea, I haven't quite gotten to yoga yet. I seem to have had a bit of trouble focusing on your question there. Oops.
* I seem to be going all black and white pics these days. I'm getting artsy in my old age...