The Friday before a long weekend. Damn, you gotta love it... You know, I'm getting into this posting of pictures thing, it demands so much less thought on my part. And this morning? Thought is fleeting to say the least. My brain has deserted me, probably ran away in the dead of night with that damn squirrel. There will be no thought provoking posts, there will be no snark... Instead, pictures! Can't believe I've had that digital camera since October and have hardly used it until now....
So, how about a weekend at the cottage?
Saturday morning, we had to pay taxes, so while Mr. Jazz went to the town hall (below) I took a few pics of the village. It's a quiet village (some would say dead boring and they'd be right):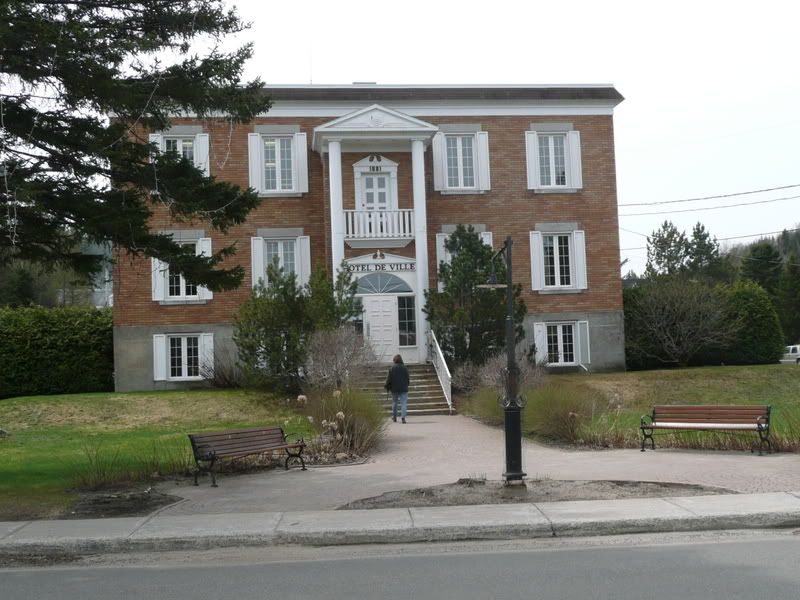 The church (which is sorta cute actually)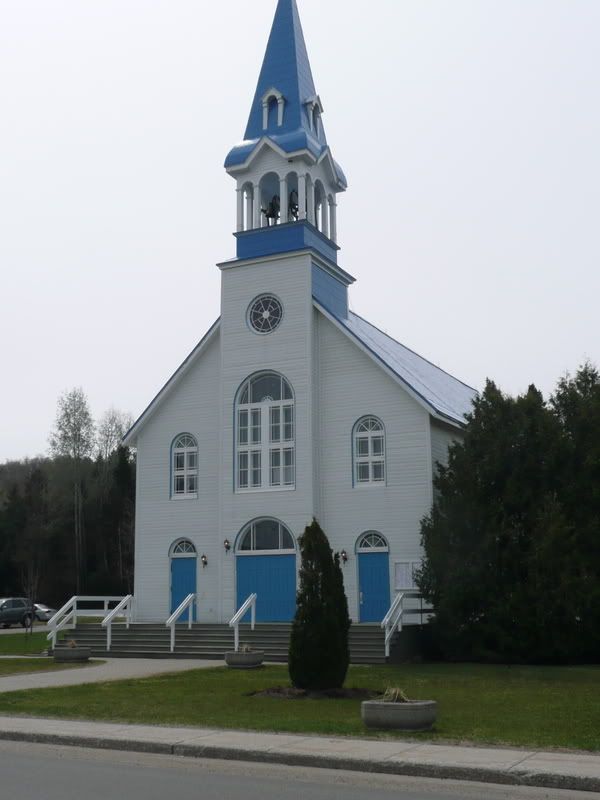 The park in front of the lake (Lac St-Joseph) I'm really happy we don't live on this lake as they're allowed to use motor boats on it. Annoying and noisy...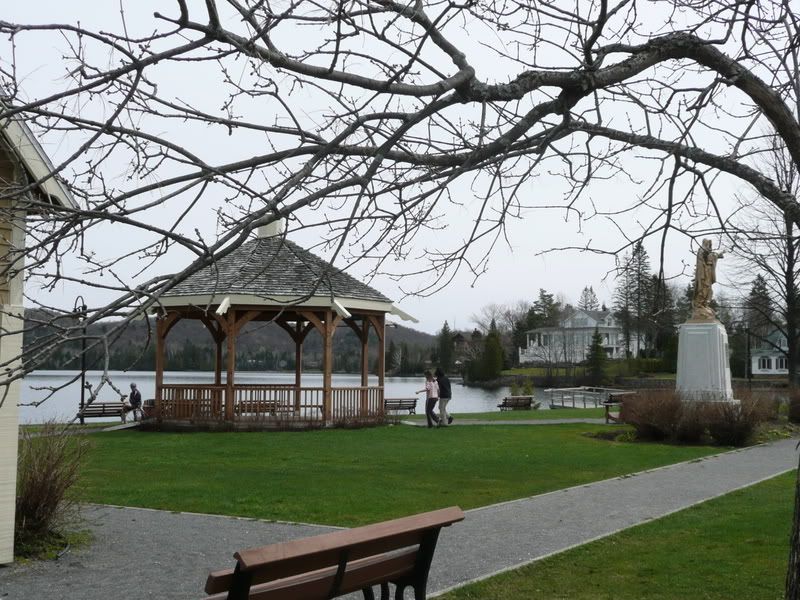 Main street, didn't I tell you it was b-o-r-i-n-g?
Then we went to the organic farmer's market in Val David. During the winter it's held in the school gym once a month. In summer (starting at the end of June) it's held weekly, outside. I can't wait for June...
Last Saturday's haul: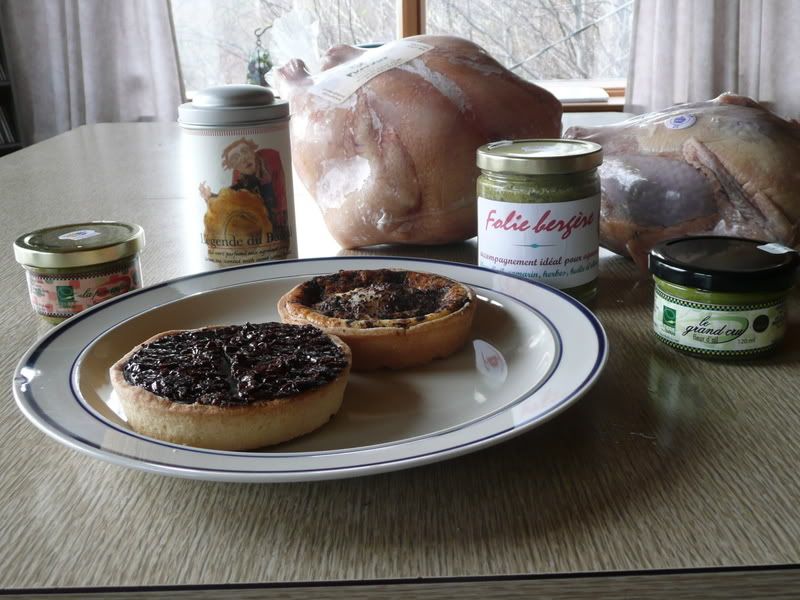 An organic free range 3kilo chicken from Diane (of Le Picardier farm) and a much smaller guinea fowl which we (um, Mr. Jazz) cooked on the BBQ Saturday night. I just realized that that was the last meat I ate last week (if you discount fish) until Wednesday evening when Mr. Jazz made a pizza with the leftover portion of guinea fowl and tons of veggies. There wasn't much left over. I seem to be eating much less meat of late...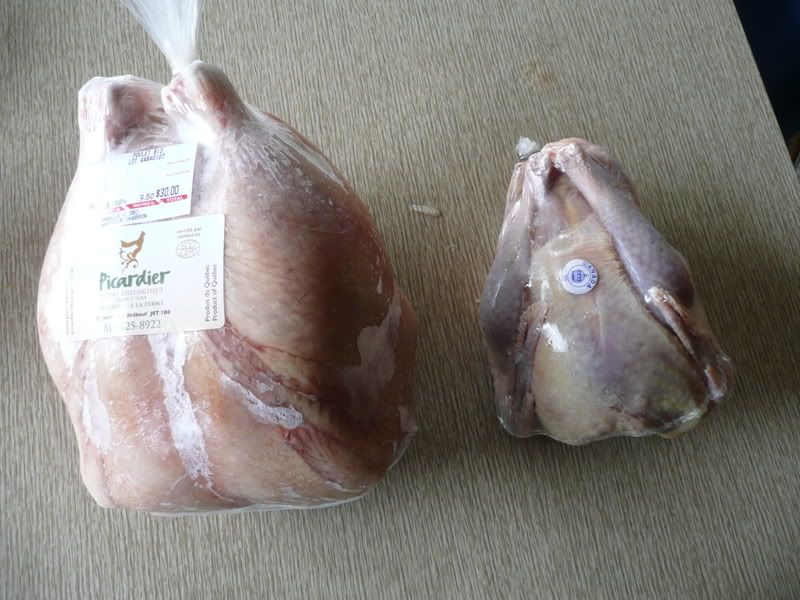 Actually this picture looks pretty bad, but the left tart is caramel, covered by chocolate hazelnut ganache with a crunchy hazelnut caramel on top. On the right is a chocolate pear amandine. Every time we go to the market in winter I get one of those chocolate tarts and scarf it down immediately. They are pie orgasm they are.
A box of tea (green tea with bergamot, lime and orange essential oils - LOVELY) and two small jars of garlic flower pesto and a jar of some sort of herb and garlic flower paste to use as a meat rub... (Yeah, I don't think (I'll become a vegetarian just yet).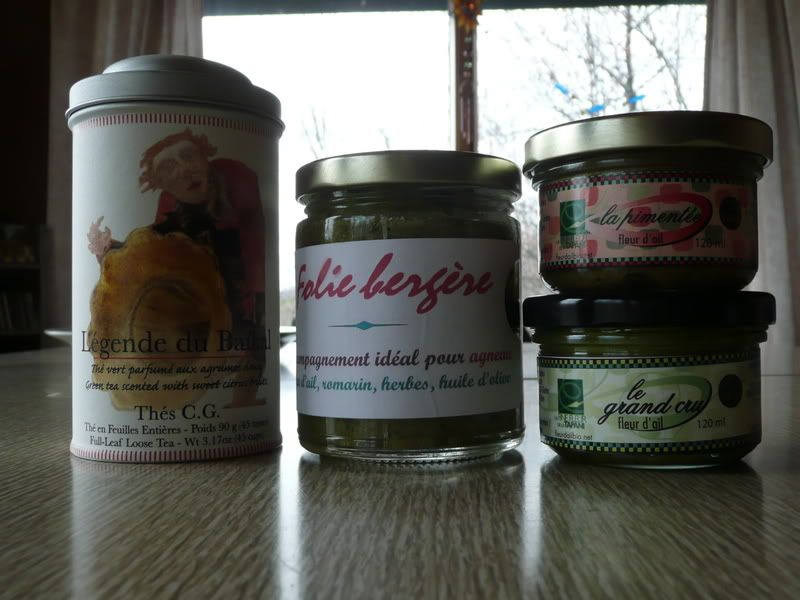 Other cool stuff - the leaves are starting, oh so slowly to come in (actually they probably pretty much in by now, it's been a week)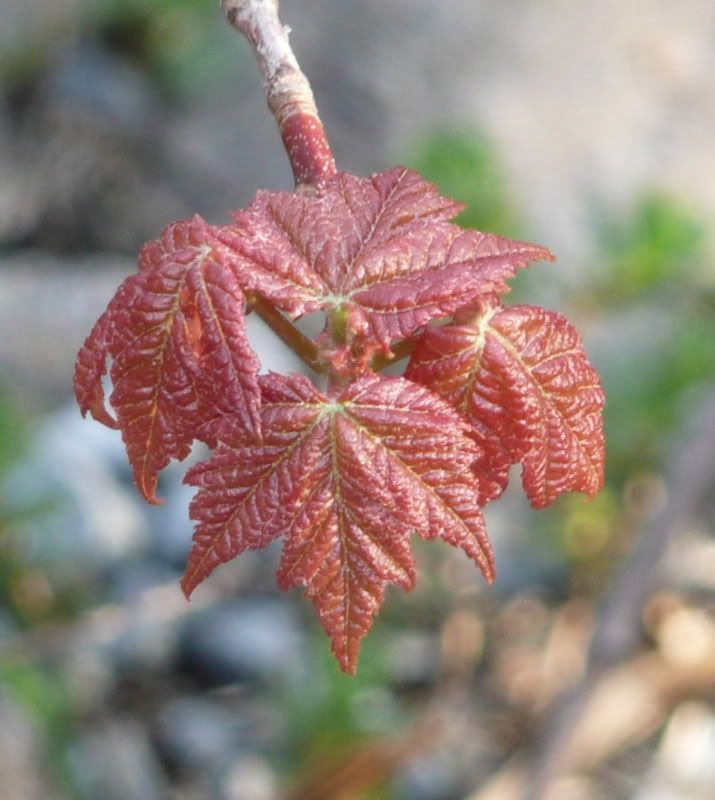 The hummers (the real thing) have arrived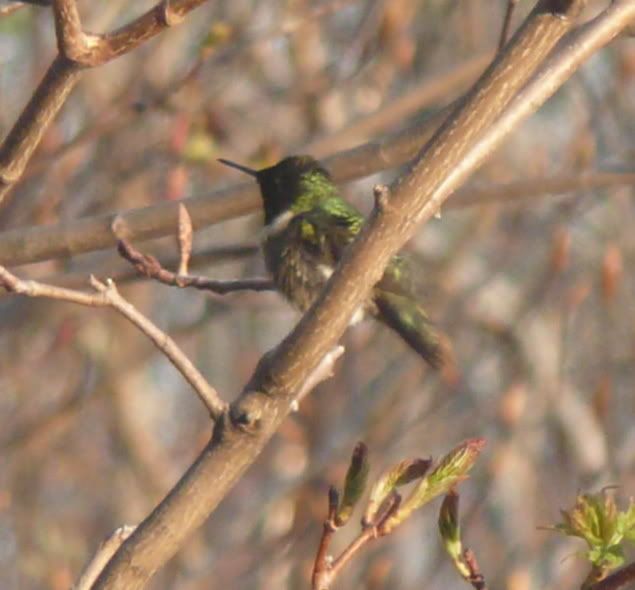 And I brought out my old, beat up bamboo windchime (it wasn't old and beat up when I got it though)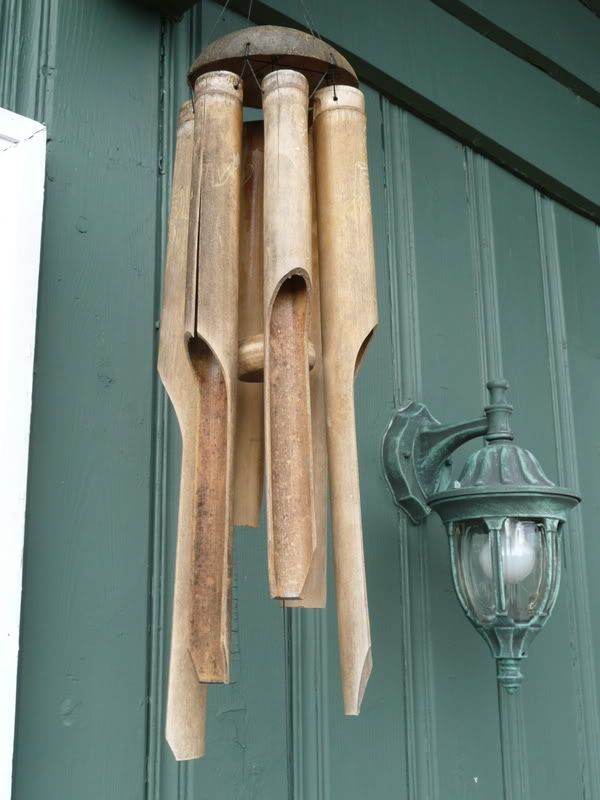 This is my evil cat plate from JazzSis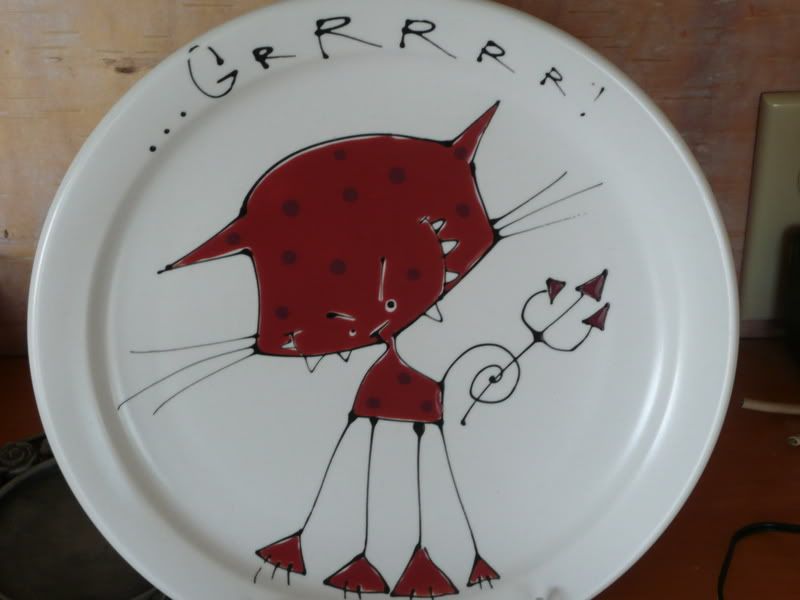 And the frog I bought in Oz. Hmmm I'm really going to have to stain that crack that just showed up on the chest. It's nearing 100 (the chest, not the crack) and when mom passed it on to me it was painted cement grey. A complete monstrosity. One of my better refinishing projects.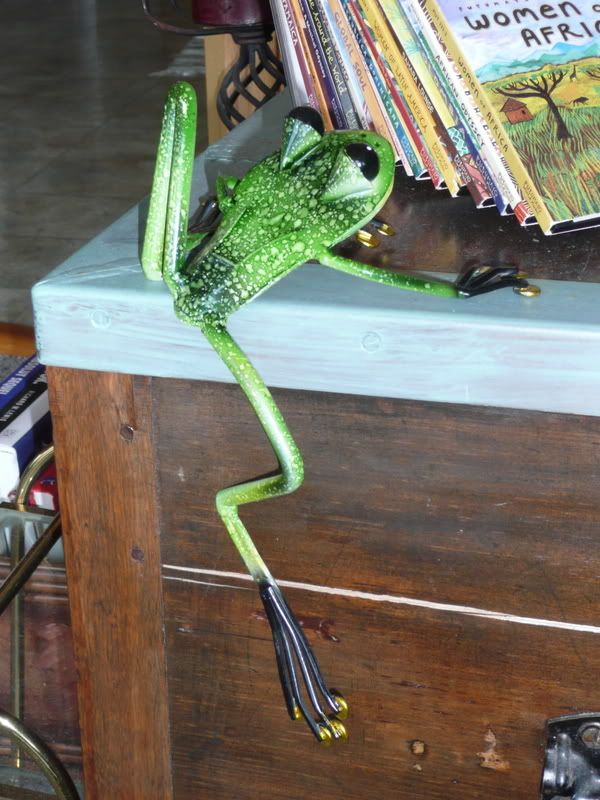 Green (G-R-E-E-N!!!) stuff growing between the rocks.
And Red, doing his "I am the master of my domaine" thing. An obsession with rodents? Me? Ya think?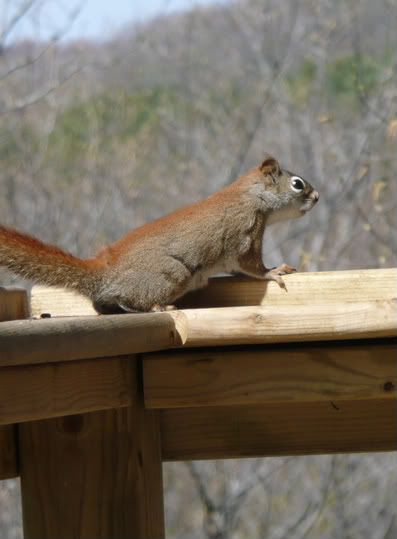 Have a great long weekend everyone!