He was sitting there minding his own business when suddenly a piece of bread hit him on the head.
"Bread?", he wondered "What is this manna from above? Have I been wrong all these months? Was my grandfather right? Is there really a god who looks down on us with kindness and love in his heart and feeds us now and again?"
"Well," I felt like telling him, "No, there isn't. Mr. Jazz just threw the leftover bun onto the roof, knowing some bird or squirrel would eat it. That's all. No use going into paroxysms of philosophical pondering. You're just a squirrel after all; it might be somewhat taxing for you"
He (she? It?) lives in the roof of the storage shed across the alley (just under the left hand corner there). Generations have nested there. Twenty years I've lived here and there's been some generation of that family sqatting there all that time. And lord knows there can be plenty fo generations of squirrels in 20 years...
And periodically a member of the family is bombarded by a crust of bread, an overripe strawberry, a yummy peach pit.
But my friend across the alley has an attitude. There he sat on the sawhorse that holds up the electrical wiring (really good workmanship there to whoever took care of that particular job - what happens when the sawhorse collapses?), nibbling on his piece of bread, when I figured, "Hey! Photo op!! Cute rodent eating bread." (Photo op? A rodent? I am perhaps – along with Mr. Jazz – the god of squirrel manna from heaven, but I've also gone quite inexplicably insane it seems.)
And so it began.
He did't think much of it at first.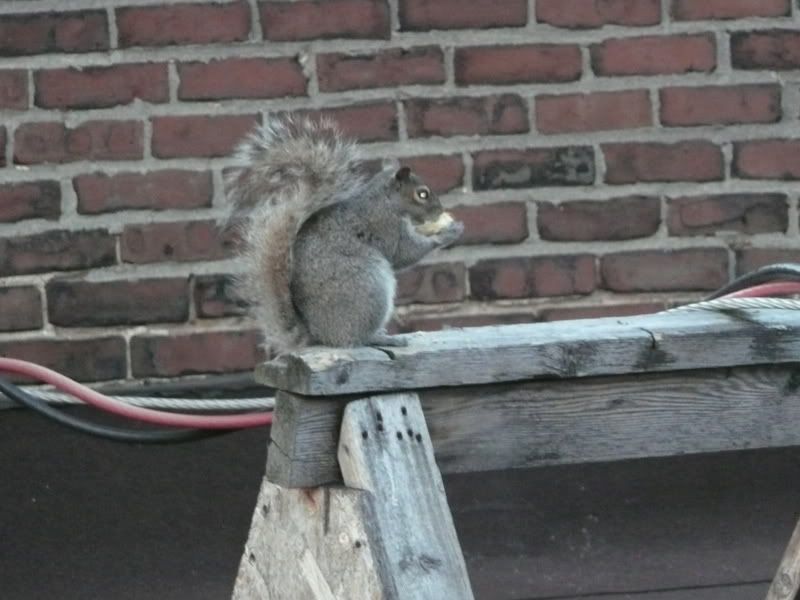 Then he started to turn his head, hiding from the flash I suppose.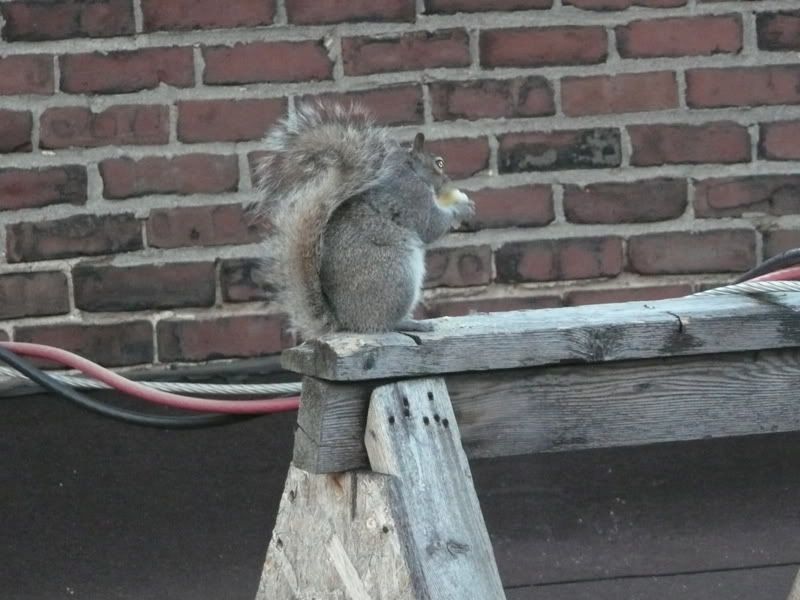 Annoyance began to rear its ugly head. "Damned papparazzi!" he thought, swishing his tail.


Off his sawhorse he hopped...


He ran up the electrical post in the alley and sat on the metal support staring at me. Trying, poor dear, to stare me down. Me! Feeder of alleyway squirrels, purveyor of peach pits and cherries! I stared back.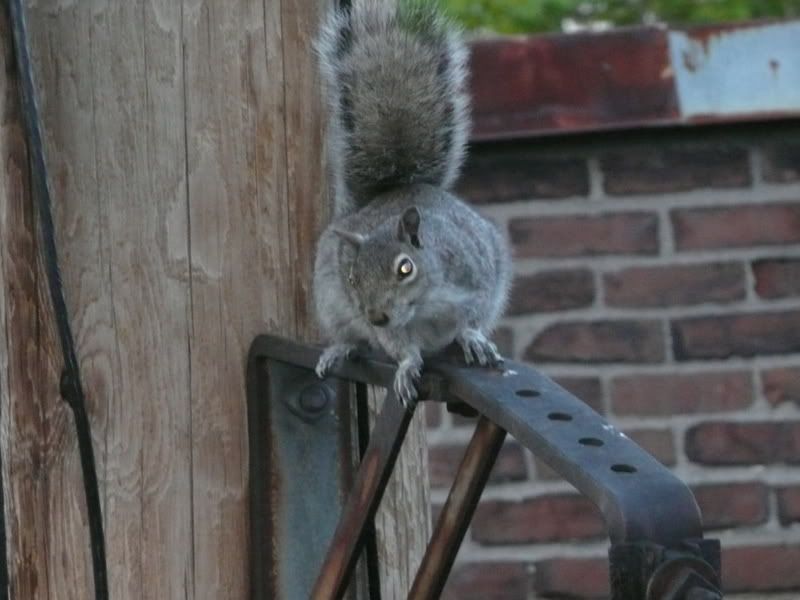 Then he stopped staring and started screeching. Swinging his tail, stomping his feet - not that you can tell by the pic. The boy (obviously a boy, so testosterone laden was he, or is testosterone not a squirrel thing? Or, it might be argued, the girl with her hissy fit) was mightily pissed off. 'Course I'd sort of be annoyed if people insisted on photographing me while I was eating, but still, you're not supposed to bite the hand that feeds you. Or so I've heard. Now he knows what it feels like to be Britney Spears. I'm sure he had no sympathy for her whatsoever until yesterday.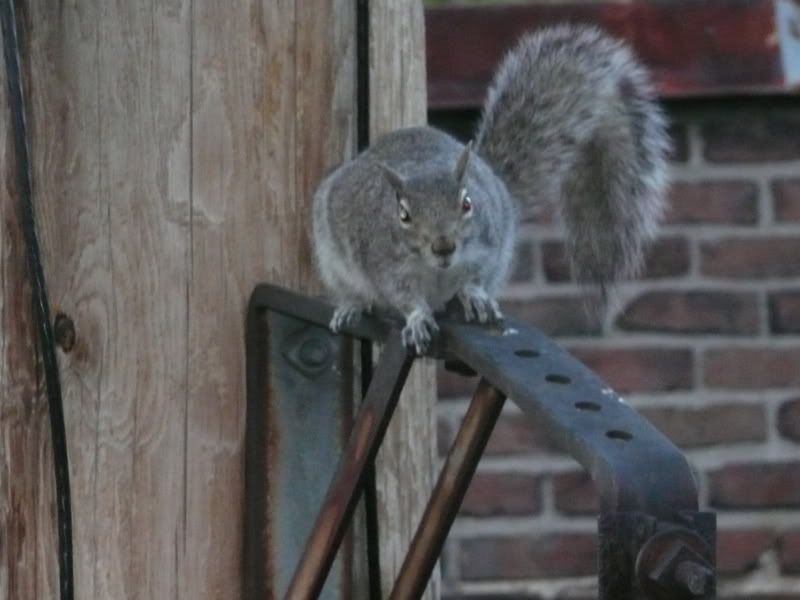 And I have no doubt he would have bitten me, had I been close enough. Five minutes after I went inside, he was still sitting there. Ready to face down the evil papparazzi. And as soon as I opened the door he started up again. I'm sure he thought he was forcing me to flee with his terrifying carrying on. He really needs to learn to get over it already.

If only he knew I was the god of lovely sustenance falling from the sky. I mean seriously, how often does a Montreal squirrel get to eat pineapple or mango?

He'd probably give me attitude anyway.