I'm reading a very interesting book right now,
Twinkie Deconstructed
by Steve Ettlinger, which takes the ingredient list for Twinkies and looks at where each ingredient comes from, how it's made, etc.
The baking powder (the same one we use all the time) contains phosphorus - an ingredient which, when it comes into contact with oxygen bursts into flame... OK, well, it's not in its pure liquid form in baking powder, but still, really bizarre.
However it's this little paragraph that really caught my attention:
"Indeed, this is what innocuous, everyday baking powerder is made of, but most of this elemental phosphorus is used to make acid for Monsanto's Roundup, the most common herbicide in the world (the one that Monsanto's genetically modified corn and soybean plants resist)..."
So farmers use this herbicide and then must use Monsanto's grain (soy, corn, canola) in order to actually have a crop that can survive the weed killer. It seems Monsanto basically owns most of the grain used in the world today.
They. Own. The. SEEDS!!!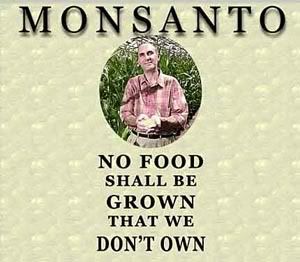 That freaks me right the fuck out.
Not only do they own the grain farmers plant but farmers cannot use saved seed for the following year because it violates Monsanto's patent. And Monsanto is taking farmers to court, sueing them millions.... Check
this
out and
this
. They're even patenting
animals
.
Of course I had already heard about Monsanto's way of doing business, but today it really hit home. They pretty much own our food sources now. How can this have happened?
Seriously. How?
While I was looking for an image to illustrate this post, I came across this blog
Marginal Notes
. (The image comes from this blog, but seems to be floating around the internet. Who knows who it belongs to.)