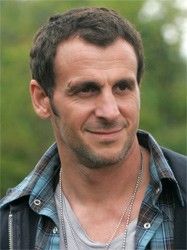 Hot Quebec actor (hot career and hot hot boy), after writing and/or directing a couple of quite good movies - Bon Cop Bad Cop, Trois Petits Cochons (Three Little Pigs) - is going to Africa to film a documentary on the Millenium Objectives voted by the UN in 2000.
The 191 member countries were going to make sure primary education was available to all, reduce poverty and hunger, promote women's equality, reduce infant mortality among other noble objectives.
Eight years later, Huard has decided to go see what's what, since, according to him, the UN is falling behind on all of these objectives .
Huh! Did he really thing the UN would actually do anything other than sprout good sentiments? If so, he's a damn sight more naive than I am. Obviously, nothing was going to be done. There's no money in ending poverty.
Who me, a cynic?