.
What to do on a lazy Saturday afternoon?
There are so many options! A world of options. A veritable universe of things to do.
Have a cup of tea. Read by the fire. Have glass of wine and watch a movie... All of the above?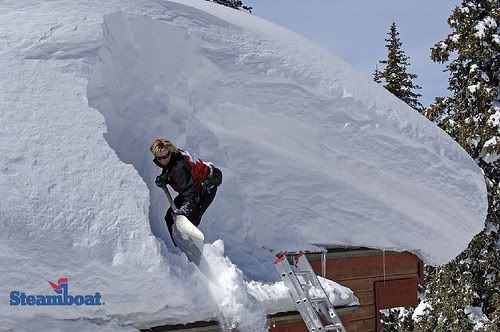 None of the above. How about...
Climb up to the roof .
Struggle onto the huge pile of snow - OK, flounder onto the snow like a beached whale. Yes, I know, the image doesn't work does it. Except in Monty Python sketches.
And shovel. Shovel off three or so of the six feet piled up on there.
You'd think a good push and it would slide right off eh? People start avalanches all the time. But not on roofs. I wish.
No. The damn stuff likes it up there. It's all patted down, it's all comfortable, plus, the view is spectacular so why slide off? After all, it's a lazy Saturday afternoon on the roof and damned if it's gonna go easy. More along the lines of kicking and screaming, if one can apply that to snow.
I should've taken pictures, but there you go, I was more into concentrating on not falling off the damn roof than taking artistic photos of Mr. Jazz and I waist deep in snow, struggling to make it to only knee deep in snow.
Winter sucks. Indeed it does.
I've said it before, I'll say it again, hell is not flames and heat. Hell is snow and ice. Except when you're in Australia, obviously.
* Image from On The Snow.com


.