.
It's raining again...
I woke this morning to the sound of a torrential downpour and just laid there, listening, waiting for the sound to lull me back to sleep.
Surprisingly, sick as I am of the rain this summer, it's still one of my favourite sounds. Evah. I even have a CD of rain sounds. It's a love hate relationship we have, the rain and I.
As a child I loved rainy Fridays with a passion. Why Friday, I have no idea, but a rainy Friday was the perfect Friday.
Walking to school in Wellies and a yellow raincoat, jumping in the puddles, the sound of it falling on my rubber hat, the knowledge I'd be spending recess indoors, devouring whatever book I was loving that day - it made my heart sing. The rain is supposed to be melancholy, but for me, it racked up the anticipation regarding the coming weekend, it seemed so full of promise. I know, it's completely nonsensical, but then I've never been one to follow the rules of logic and reason all that closely. Hell, I'm the person who backs up towards a three foot drop when I'm sweeping - that should tell you all you need to know.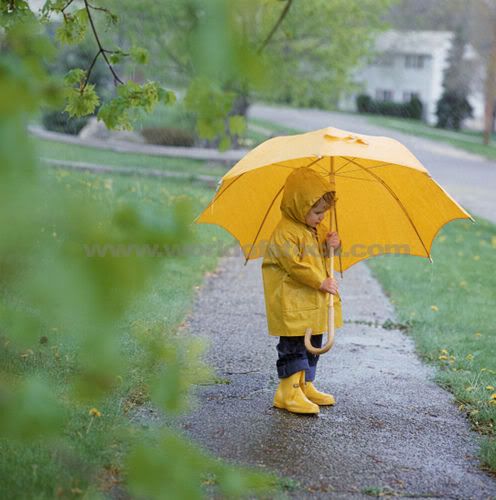 This love of Friday rain persisted into high school, and then, eventually, it petered out. Too bad really, it'd be nice if rain could still make me really happy - I'd have been delirious with joy this summer.
Please note: some seem to think that top picture is mine. I wish. I got it off the internet. Mea Culpa.
.