.
Newsweek recently had a good article on the cost of
health care and the choices
that will need to be made in the very near future. Actually, they need to be made right now. And though this article centres on the US, the same thing applies here in Canada, home of free health care.
'Cause it isn't free, not by any stretch of the imagination. I just have to look at my paycheck - over 30% of it goes to the government. So yeah, we do pay for that free health care. And I'm not begrudging the paying. At all. It's just part of the package you know?
But the cost of health care is spiraling out of control. People are living much longer, having less children and in a few years there will be more elderly than there are young people to pay for their care. Old age is extremely costly to the system, and something will have to give somewhere.
Something along the lines of who do you treat? Whose life is more valuable? A 20-year old battling cancer or an 80 year old at the end of his life? Who gets the bucks? Do you spend the money on youth and pull the plug on the elderly? When do you stop treatment?
After all, they're at the end of their lives and however much you spend on curing them, they will die - sooner rather than later. Do you forget about treatment and just keep them as comfortable as possible?
But what about when your loved one is the 80 year old. Or yourself. Despite thinking, on a logical level, yeah, let the old go, when it's your own mom or dad things might feel a little different. Nevertheless, the line will have to be drawn somewhere. Maybe the
Soylent Green
system of um.. doing away with people at a certain age makes a certain kind of twisted sense
*
. Will it come to that?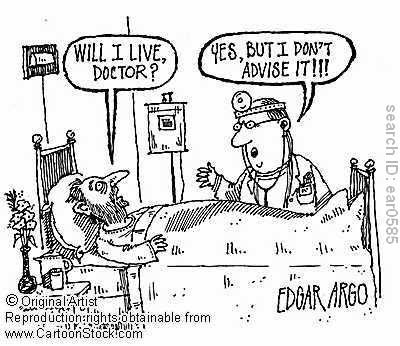 I obviously have no answers, I never do. But what do you think?
*
But not eating them as green wafers though. That's just... nasty.
.