.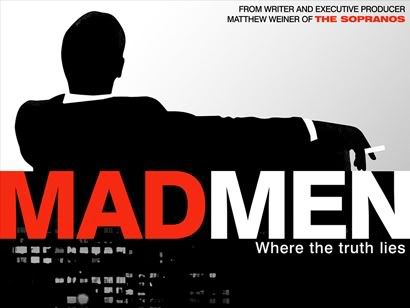 Over the past few weeks, Mr. Jazz and I have become hooked on the series everyone is talking about,
Mad Men
. Or maybe it's the series everyone
was
talking about because though we're well into the first season, apparently this series has been around for three seasons already. We can be a bit slow on the uptake Mr. Jazz and I.
It's a great series, about advertising executives on Madison (Mad) Avenue during the early sixties. Ah the sixties, such a wholesome era it was!
OK, screeching halt here. Lets just say the series shows pretty well that people will be people whatever era they live in.
So anyway, no major spoiler here - one of the characters is cheating on his wife (oh la la!!, who knew Tiger and Clinton weren't the first?)
And while watching the show I pointed out to Mr. Jazz that hey, isn't it bizarre. The ubiquitous cell phone is nowhere to be seen!
Which in turn brought out the observation: I wonder if it wasn't easier to cheat on your spouse in those days than it is today. Logisitcally speaking of course.
Obviously, if you want to be cheatin' nothing's going to stop you. But does all the technology we have to "simplify" our lives help at all?
On the one hand, back in the dark ages you could phone home and simply say "I'm dining with a client" and you were incommunicado from then on.
On the other hand, cell phones are very useful contact the "partner in crime"
On the other hand (yes! didn't you know I have hands sprouting all over my body, a regular octopus I am), if you don't answer said cell when the spouse calls because you happen to be doing the horizontal boogie with said partner in crime, questions will be raised.
On yet another hand - well I'm not sure I have another hand.
Point is, technology was supposed to simplify our lives overall. Microwaves and GPSs seem to have done so, but I tend to think that having a cellphone would complicate things somewhat if you're thinking of cheating on a spouse. If of course said spouse tends to call you at all hours.
But I don't have a cell phone so what do I know.
So now it's your turn. I don't often ask you to weigh in, but let me know what you think.