Mr. Jazz and I spent the weekend with family in Washington (well, Virginia actually) and I was thrilled to death to be leaving Montreal and it's never ending snow. Of course, Washington (and most of the east coast) had never ending rain this weekend, but it wasn't snow and it held out until late Saturday afternoon so Jazz was a happy camper. Basically, if it's warmer than Montreal Jazz is a happy camper. So basically, if Jazz is anywhere other than Quebec, Jazz is a happy camper.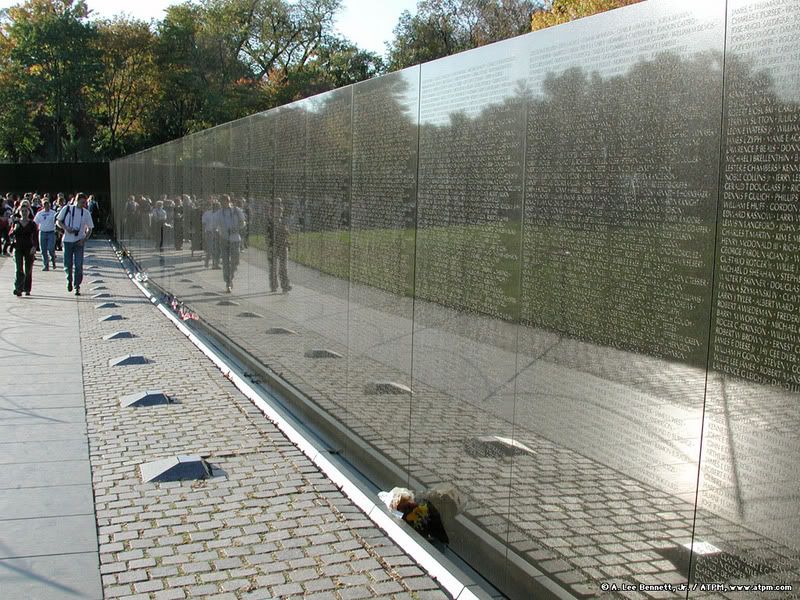 Saturday we went to the Mall – not the Mall as in Macy's and JC Penney, the Mall as in the Capitol, the Washington monument, the Lincoln Memorial. And the Korean war Memorial, the Second World War Memorial and, of course, the
Vietnam War Memorial
.
*
That one just turned me inside out. Wrung me out and threw me away. It's simple, it's powerful, it's brilliant.
Walking along it, the wall getting higher and higher, dwarfed by the wall and all those names, those thousands of names.
Thousands of men and women, so many of them almost children still, all dead. For nothing.
What a senseless stupid waste.
Anyone who gets his/her country involved in a war should be obliged to go fight on the front lines.
Later
: How ironic - Here I am bemoaning a senseless waste of life and I just found out about the Virginia Tech shooting... Why are these school shootings happening only in North America? What kind of a sick society are we living in?
*
Funny, when Mr. Jazz and I went to Vietnam, they referred to it as the American War