I want to know which moron came up with that particular phrase?
I mean seriously, winter wonderland?Perhaps in Tahiti or Arizona, but Montreal? Not so much...
I could understand spring wonderland with all those leaves popping out, or summer wonderland with the heat and the greenery and long evenings on the patio. I can even get fall wonderland, with the leaves turning and all.
But winter wonderland? Nope.
What is so wondelandish about winter? It's all brown and grey and white, not to mention slushy. OK, granted there are those blue shadows mixed into the snow drifts and the sky, when it's sunny (and thus really cold, another point against it), is quite an amazing blue, but blue shadows and sky do not a wonderland make.
It's cold, it's frigid. There's no moisture in the air and you dry out like an old husk of corn (ok, wonderland maybe for moisturizer companies). Your fingers freeze, your toes freeze, your damn brain freezes when you stand on the corner of St. Catherine and Greene waiting for the light.
Dressing to go outside is a pain, what with the boots and the hats and the coats and the gloves and the numerous layers.
And to add insult to injury, don't ask me why, but washrooms in most Montreal restaurants are glacial. For some reason they don't seem to be heated. Baring one's ass in there is scary. How do you explain a frostbitten ass?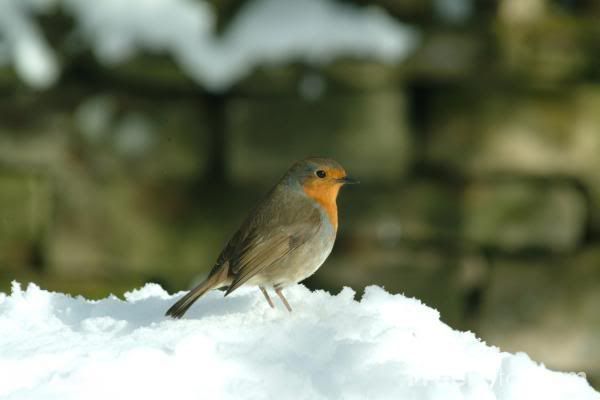 The only good thing I can see about it is that the birds are much easier to see.
Jack Frost nipping at my nose doesn't do much for me.