For the past couple of weeks, Mr. Jazz and I babysat a couple of cats. I'm always thrilled when that happens because I really miss having pets.
One was an overweight black girl, a little nervous at first, but she eventually settled in nicely, coming to us for purring and petting fests, ready to do anything for food (the girl, she ain't pudgy for no reason). She was really quite cute.
Then there was the boy cat - a lovely caramel tabby. He's several years younger and quite.. um… neurotic. It took him a week to actually come out from under the bathtub when we were around. We have a clawfoot tub, but honestly, I'm sure he would have found a way to slide under the there even if it had been directly on the floor.
You took one step towards this guy and off he'd run until he was safe in his little corner under the tub, right there under the taps. Safe from all the big bad humans. Safe from everything except the tub collapsing on his head - good thing he didn't think of that possibility.
Safe! From me! The original crazy ass cat lady. Ah well, his loss I guess… Apparently he has these tendencies even with his mistress. Go figure.
One fine day Cat Mistress came to our place to pick up her felines. We figured we should start with Mr. Neurotic, so we chased him down, caught him and tried to wrestle him into his cage.
Tried
being the operative word. The results weren't too conclusive since he started screaming as though he was being flayed alive, twisting and scratching until he got away. Ever tried keeping hold of a cat who has decided he is not staying with you?
Which is when all hell broke loose – 'cause until then it was just a case of a cat who didn't want to go into his carrier.
We experienced the attack of the psycho killer cat first hand; that big black love of a cat decided to protect the little guy I suppose, even though she'd pretty much ignored him all week... Maybe she understood that if he was indeed being torn limb from limb, flayed alive and eaten as a snack by us trolls, his food would no longer be available to her. Of course! She was protecting her secondary food source. Never mind the boy.
She started out by biting Mr. Jazz on the ass. He was wearing jeans so he was no worse for wear. Then she went after my finger. This all happened in the space of probably 20 or so seconds.
I went to the kitchen to rinse the blood off and as I was doing so, she stalked in, looked at me evilly, screeched, jumped on my thigh and bit down. Hard. Ever tried getting rid of a cat who has decided to hold the hell on? Not so easy.
It was insane it was. Here I am in the kitchen with my finger under the tap and huge howling ball of black fur hanging off my leg.
With. Her. Teeth!
She was more than willing to eat me alive - perhaps she felt I hadn't fed her enough while she was visiting. I can only thank my lucky stars she was declawed when Cat Mistress adopted her - maybe that's why she's pissed off.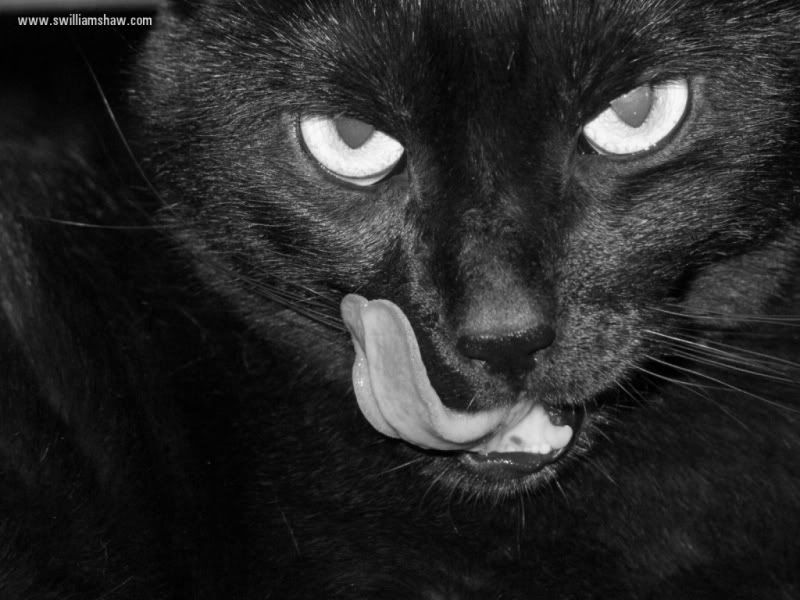 Psycho Killer Cat contemplating having me for dinner **

How can a cat scream and bite at the same time? It's a mystery I don't much want to discover the answer to.

Profuse apologies followed – poor Cat Mistress, it really wasn't her fault, and until then the cat had been great.

It was totally surreal as experiences go. The most I've ever seen from a cat is taking a swipe and running away. And I would never have expected it from her, she was such a, well... "pussycat" all week. I'll never see that particular word in the same light again.

I guess that's what happens when you name a cat Tiger, eventually it feels the need to live up to its name.
** In a very Hannibal Lecter sort of way
Picture from: http://www.swilliamshaw.com/