.
.... I just do it in more expensive shoes.
And I have the proof, since
Urban Animal
has seen fit to bestow the following award upon me...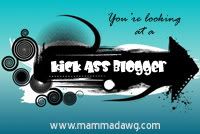 See, it says right there: You are looking at a kick ass blogger. Awards never lie... do they?
So thanks Animal for thinking I'm kick ass and giving me something to blog about on what otherwise would have been a blogless Monday morning in August.
And because there are rules - and unlike
Geewits
I feel obliged to go by the rules (I really need to take flaunt**-the-rules lessons from her), I bring you - drumroll please:
The ROOLS:
- Choose 5 bloggers that you feel are "Kick Ass Bloggers"
- Let 'em know in your post or via email, twitter (what the hell is twitter?) or blog comments that they've received an award
- Share the love and link back to both the person who awarded you and back to
Mammadawg
- Hop on back to the
Kick Ass Blogger Club HQ
to sign Mr. Linky then pass it on!
As an aside, have you ever stopped to think that eventually these awards should make their way to every blogger in the universe, if every person actually does pass it on to five more? Doesn't that seem sort of pointless? Just sayin'
I sort of hate doing this though, since, if I'm actually reading a blog, it's a kick ass blog. I wouldn't read drivel now would I? So you can consider anyone on my blogroll as a kick ass blogger...
Anyway, as I must follow the rools, here are my five choices:
First off
Suzan Buckner
, aka the Thrifty Collage Artist. I discovered her blog a couple of months back and we developed a friendship beyond the blog. She posts her art journal pages which I love and which keep me going back (can you spell addiction anyone? Obviously I can). Besides, I just won one of her paintings so I owe her.
ChooChoo
- Another blogger I became friends with. Yeah, so I'm biased in my choices, sue me. She seems to have decided to blog again after a summer off. It was way overdue. Choochoo is funny, caustic and her adventures with her dog (Pooch) and Bergerac (her brain) never fail to make me laugh.
Ticknart
- I've been following his blog for a long time now. I have no idea how I even found it, but there you go (my own "Bergerac" seems to be spending more and more time on vacation). I like his take on the joys of civil service in California.
BB
- Because if I don't give him a award once in a while he'll beat me up. He would you know. Y'all think he's such a nice guy, but I'm his baby sis, so I know.
Jonah
at Gefilte Fish Blues. I just recently found his blog and the guy is hilarious. The neuroses of a Jewish lawyer. He's brilliant. Unfortunately he doesn't seem to blog that often. His last post, dated August 5, is titled
Good Things Come to Those Who Wait
. We're still waiting Jonah!
And because I have to break the rules to some extent, I'll pass it on to
Ian
too, because a) I like to complicate his life and b) he'll pass it on to several people I would give it to if I could give it to my whole blogroll.
** Edited to add: Damn, I knew that was wrong! It's FLOUT! Flout the rules, as
Ian
pointed out in his blog of today. In a rant. Where I was not named. But I picked up on it, I did. I won't make the mistake again Ian, I promise!
.