.
For the past few days we've been olympicized non stop. I used to be a big fan of the Olympics back in those days when I was young and impressionable. Now I'm an old cynic, so not so much.
Except maybe for the swimmers. The male swimmers. They have such exquisite bodies. I am still mightily impressed. Oh my...
Moving on.
Speaking of male swimmers, Mr. Jazz sent me the link to this blog by
Patrick Lagacé
(a favourite of mine) on
Cyberpresse
.
It struck me when I read the post that today's athletes are indeed more machine than human, and perhaps that has contributed to dulling the appeal of the games.
Compare Phelps: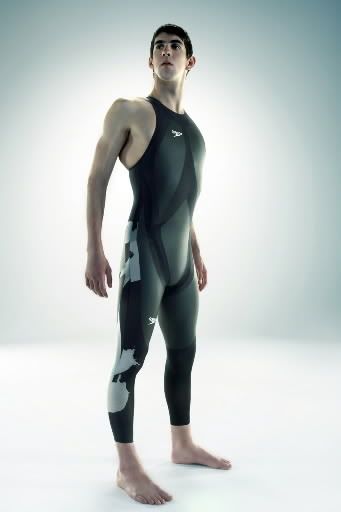 To Mark Spitz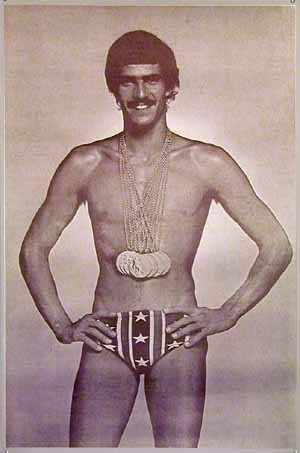 (Photos were poached shamelessly from Lagacé's post. But they had to be translated into English 'cause y'all speak just English for the most part, so would you have gone into the post to check? Yeah, you would've, but hell, a post looks so much better with pictures, and putting them here makes it that much easier for all involved and yet again I digress. As usual.)

In 30-some years the change is amazing. Mark Spitz looked like a human - well except for the 'stache. And the speedo with the well placed stars....

Yep, the change is amazing. But mostly scary.

If I want to watch machines compete, I'll go see a Formula 1 race.

The records broken today couldn't even have been reached 30 years ago. And I can't believe it's all because of nutrition and training methods. That's a load of crap.

Athletes are doing things beyond what it seems a human should be capable of. All those drugs are showing big time - they might just catch 50 or so athletes at it because someone has to be made an example of, but pretty much all of the star athletes must be on some kind of performance enhancing drug. And we're not talking Vitamin A, C or E.

Some minor athletes end up taking the fall in order to put up a show, but really, who are we kidding.

What's the point of pretending it's not going on? What's the point of pretending to try and stop it? Because of the money involved, I'm not sure that the organizations really care to stop the drugs. It does make for a good show after all.

So why not just legalize the damn stuff since everyone is doing it - some more successfully than others.

Why not just stop the hypocrisy and say, yep, the athletes are all drugged up which gives their performance a boost, thus giving y'all those superhuman records and a chance to cheer insanely for your favourites.

At least spectators will know exactly what they are getting.

Meanwhile in Canada, the media are starting to grumble because we haven't managed to grab a medal yet. There are two schools of thought:

- We're doing good because we're in the top 6 or 7

or

- We're paying for medals not for top 10.

Seriously people, what freaking difference does it make?
.