.
Dear lady on the street,
The auburn hair and the short ruffled skirt do not fool us. You are pushing 80. Hard. Deal with it. I'm not a proponent of dressing frumpy, but there is such a thing as age appropriate. With your mini skirt and your low cut T, which shows off tons of saggy wrinkled cleavage you look like the female equivalent of a really bad comb-over. And we all know all comb-overs are bad, eh?
Seriously, you could be a really good looking old lady (because, ma'am, you
are
old), but the way you dress makes you look even older and more faded.
Not a good look. Denial is obviously not just a river in Egypt.
Sartorially,
Jazz
**********
Dear teenager on the subway,
Guess what? Sticking your back pack between the doors to stop them from closing, thus keeping the train in the station is
not
funny.
It's stupid, it's annoying for everyone on the train, it's moronic, it's anything but funny.
And if you don't stop, I might have to tear you limb from limb.
Really kid, you don't want to face a 47 year old woman in the throes of both PMS and a perimenopausal mood swing.
Because you will lose. I guarantee it. You think I'm an old bag, but I can take you down in a nano-second... and stomp on your i-Pod just to piss you off.
Kid, you will not win, so smarten up.
Hormonally,
Jazz
**********
Dear cashier,
Fuck you too.
Obscenitily,
Jazz
**********
Dear Artist,
No you are not an artist. I don't care what you say, you are in no way an artist. A wannabe, maybe, but not an artist.
And when you say things like how you're an artist and thus very creative and because of your creativity,
unlike people who aren't artists and are not creative
, you are very good at problem solving I want to strangle you because I've had to solve problems you very creatively caused.
And when you say that as an artist you are so much more sensitive than the rest of us, I want to tear you a new one, because you're no more sensitve than the rest of us schmoes, you just use it as an excuse to not deal with life. Guess what, we're sensitive too, we just put it on a back burner and deal with the assholes.
And the creative dressing? Um, c'mon that's just plain "you need an intervention" ugly. Seriously, even if you're plump, you can dress creatively without looking like a pumpkin - unless of course that's the look you're going for.... Ever heard of the concept of an accent colour?
You are insane and you annoy the fuck out of everyone around you. Get the hell over yourself.
Uncreatively,
Jazz
**********
Dear clothing manufacturer,
I do not look like this (especially with the Charlie Brown dress).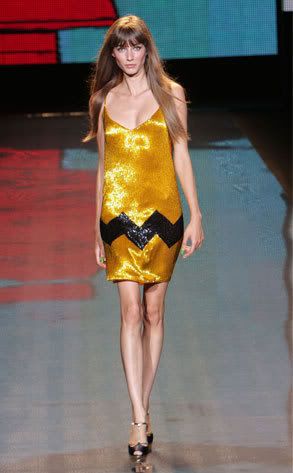 I have an ass. I have shoulders. I have a real body ferchrissake. Just because I have an ass and shoulders does not mean I am built like a refrigerator, straight up and down.
Just because I have curves does not mean I have boobs the size of Pamela Anderson. Just who the hell do you think wears your clothes?
Newsflash for you! The people who wear your clothes are neither models nor Pam Anderson. They're real women with real bodies.
Surprised?
Well there you go. Neither Pam Anderson, nor the models, nor those perfect plastic people will buy clothes from you, you're simply not at their level. They pay more for a bottle of nail polish than the cost of one of your suits.
Deal with it. We're real people, we have money to spend and we want clothes that fit even vaguely. It would be a nice change.
Sartorially (squared)
Jazz
.