.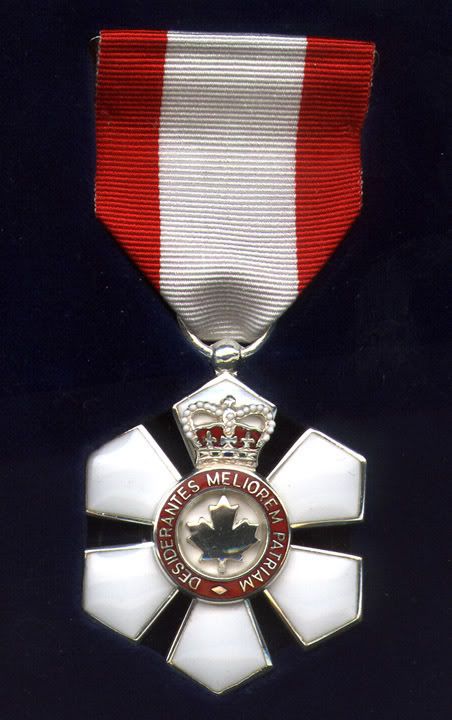 Monseigneur Turcotte of the Catholic Church was to receive the
Order of Canada
, the highest civilian honour you can get in Canada.
According to the website it
"recognizes a lifetime of outstanding achievement, dedication to the community and service to the nation. The Order recognizes people in all sectors of Canadian society."
David Suzuki
has it, as does Celine Dion, for whatever reason, I'm still wondering about her outstanding service to the nation; I can't quite get my head around that one.
Conrad Black
has it, I'm sure it's a big consolation as he sits in his prison cell.
Many many "unsung heros" are also recipients of the Order. You know, real people who make a difference. They still exist apparently.
Henry Morgentaler
is among the latest recipients. Because of Morgentaler's battle, Canadian women have the right to choose what to do with their own bodies. I happen to really admire the man for going to bat (and prison) for women.
As an anti-abortion (I refuse to call them pro-life) Catholic, Turcotte has decided he cannot accept his medal. It's a moral decision. Receiving it at the same time as (now use your best deep and ominous voice here people)
an abortionist
, is anathema to the guy.
I guess Morgantaler is the devil. A Jewish devil, at that. Oh my.
I'm sure he'll accept it next time he's nominated, if everyone at the ceremony meets with his approval.
What I find totally ironic is that Turcotte has no problem with a couple of priests who recently admitted to molesting children and didn't go to jail. One of them is in a monastery somewhere, the other was given a scholarship and went to Rome to study some religious something or other.
The hypocrisy of it floors me. But, as the good Monsignor says, they are punished in their own way... Um, yeah, sure. Scholarships are a helluva punishment. Every child molester should get a scholarship to go study in Europe. That way our kids would be safe at any rate.
And then they wonder why people are leaving the church in droves. Well duh.
.