Note: Many thanks to Mailloux for providing todays blog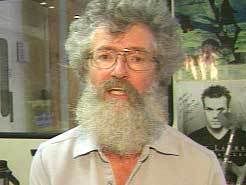 Remember him?

Big kerfuffle in Montreal this morning about the guy. He was interviewed for a TV show, "Les Francs Tireurs" (The Snipers), and apparently went of the deep end, so much so that the network has decided to kill the show.

According to the papers (keep in mind that no one has seen the interview, though it'll probably end up on You Tube), he said, among other things that:
Women are inferior to men. Female doctors can't handle the stress, and work less than male doctors, and if medicine becomes a more feminine profession, the level of health care will drop.
He would never ever work for a woman (but that's a personal thing – he said in a radio interview this morning that he wouldn't be able to get it up if he had been bossed around by a woman all day. Gotta give him points for honesty).
Michael Jackson and his sister Janet exhibit African tribal behaviours (he with the whole crotch holding thing – do they really do that in Africa? – and she by showing her boobs on national TV) and that they really have to realize they aren't in Africa anymore

*

…

But, to loosely quote a McGill professor: Mailloux usually says things the way they are. Women doctors tend to work less than men, smokers have a lower IQ than non-smokers, men are physically stronger than women, and thus some jobs are more suited to them (and vice versa), there are plenty of pedophiles and unfit mothers… all things people don't want to hear.
The guy does have a point. Doc Mailloux is a firebrand. He provokes people, says whatever he thinks and, every time, lands himself on some front page or other. It's what he does; it's what he's always done and will do until he dies.

But why on earth do people get so het up about it? The media just gobble it up every time. Debates ensue. People scream and yell. It's fascinating to watch actually.

So now, probably, a few things will happen:

People will want him to be muzzled, he's not PC, shut him up!

**

Women will scream: We are not inferior doctors.
Blacks will scream: We do not exhibit tribal African behaviours, hell we've never even seen Africa. For generations.
Others will scream: Look at the state of health care in Quebec, he might have a point.
And this will go on for a couple of weeks until some new un-news comes up. And he will have gotten what he wanted, and the media will have gotten what they wanted, and the public will have gotten what they wanted; namely, depending on which side of the fence they sit, to prove that he should be put away for his incendiary opinions, or, conversely, that he is totally right and that's why what he says creates such controversy.

And so the wheel turns. As we say in French : "Le ridicule ne tue pas"*** Good thing too - this place would be littered with corpses.

* News for you Doc, Africa wouldn't want them, and is Janet Jackson the first woman to bare a boob publically? What about white women who do that and worse – Britney baring her cootchie comes to mind… As for Michael, he's just a total freak, whatever his ethnicity.
** Me, I think the man does what he does very well, namely get himself talked about, but, really, who cares what he thinks about the place of women and blacks in society.

*** Stupidity doesn't kill