.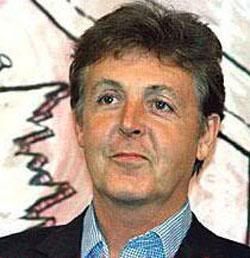 Paul McCartney
will be doing his thing in a free show in Quebec city this weekend for the city's 400th anniversary celebrations.
And feelings are hurt.
Many Quebec singers, including
Michel Rivard
, and actor/politician (yeah, another one of those)
Pierre Curzi
are really put out at this. Why?
Because it's a Quebec party and they've invited an Englishman (the enemy) to sing at the party, rather than one of their own. Basically they feel cheated because people have the chance of seeing an international star for free rather than one of them - who, let's admit it we can see anytime. These people will be at the
Francofolies
festival, the Strawberry festival the cute little pig festival, the potato festival... they're all over the place all the freaking time. It's festival time in Quebec and they'll be haunting each and every one.
Including the 400th.
But they're annoyed because the headliner will be McCartney. Someone who has had a major international impact on the music of the 20th century will be there. Michel Rivard and Co. are not the be all and end all of music, they only think they are.
Funny enough, they're not bitching because Pascale Picard* will be opening for him. She hails from Quebec City, but - oh horror!!! - she sings in English. Which isn't her language. The paradox is interesting.

These people, who are closed to everything not francophone quebecer want a country? It's a scary thought.

They really need to get over themselves.
*She's really very good, I love her CD
.