.
Or would that be Quintennial?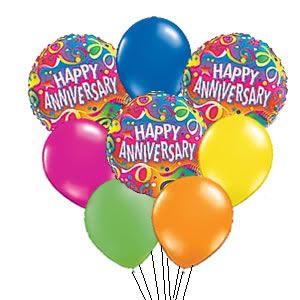 I posted here for the first time on October 15, 2005, 500 posts ago. It took me 3+ years, but I made it to 500. Who'd'a thunk it? I figured I'd never get past 100.
I was wondering how to celebrate this milestone. Once, long long ago - so long ago I can't be bothered to search it out, I believe I did a "100 things about myself" post. Do I dare 500?
No.
Because a) It would be boring as hell to read, b) It would be even boringer to write, and c) I don't even know if there are 500 things to say about me. Besides, it seems a tad (OK, way more than a tad) narcissistic to make such a list and imagine people would actually want to read it.
So my little brain was racked and racked for a celebratory idea. Then... vwwwuup! (that's the sound of an idea arriving) I thought well, hell, why not do like several people I've seen who celebrate with a giveaway. More racking of grey matter ensued. Poor thing was being racked to death. What could I give away?
A jar of toenail clippings? That's all the rage in the art world you know, as you can see from the works of
David Shringly
and
Carlos Capelan
(well, he uses fingernail clippings, but still, same idea). However as an unknown artist, such a jar of my DNA wouldn't be worth much, more's the pity.
There's that mummified muffin (such alliteration!) I forgot in my desk, but then, if I'm really hard up for breakfast I could always "just add water" and it could save me from starvation.
So, the giveaway idea was given up.
Ah, wait.. unless I show extreme generosity and - insert drum roll - give whoever wants it the once in a lifetime chance to guest post on Haphazard Life!
Just what you've all been waiting for, eh? And me? I get to put my feet up and let someone else do the work for a change. This is an idea I can work with! Email me your posts and I will give you full credit, I swear!
What? No takers!?!? Even if I whine that I'll be spending my vacation painting? sigh...
Well then no celebration. Of course, the last time I celebrated, the ensuing hangover was celebratory, to say the least.
A 500th post about failing dismally at celebration. That's new and different ain't it?
How's that for haphazardness?
The name is well earned indeed.
.