.
I saw crocuses (croci??) today ! I did, I did!!! As well as tulips budding. Zipping by while I was in the car. Could spring be well and truly here even though we're still at freezing temperatures in the morning? Can it actually be? Or was it just a hallucination brought on by the sun hitting that scrap of garbage just so? I can't quite picture it really.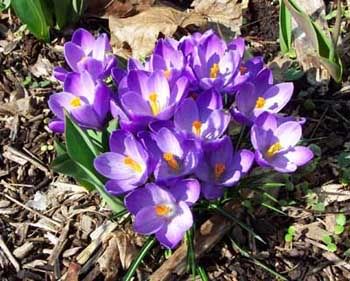 My 500th post - which will be up next. Who thought I'd ever make it to 500. Certainly not me these past few months.
Two weeks of vacation starting next week!!! YAY.
Of course said vacation will mostly be spent painting the apartment, but I'm looking forward to that too because it's so way overdue. And because I've actually made my paint choice after a couple of years (yep, that's how long the "we've got to paint" thing has been going on) of diddling and freaking out over "what if it's the wrong colour!!" issues. A friend of mine recently said, you know, if it's the wrong colour you're just $40 from happiness with a new gallon of paint. She's right. I find myself paralyzed by the stupidest things sometimes.
Finally getting the apartment cleaned up after all this time - we had a furnace problem and it was spewing carbon monoxide (bad for us) and soot (bad for the walls) all over the place for a bit. Bleargh. On the other hand, washing the whole place down with TSP will be a bore, but waddaya gonna do.
Also looking forward to the easy before/after picture post that will result.
Spending some "week" time at the cottage. Hopefully in good weather so I can sit on the balcony drinking tea. Or wine. Wine is good too. Next Monday is the 7th anniversary of our buying the place. I can't believe it's been that long already.
Getting my hair cut. I've been lazy lazy about that (can't be bothered getting my ass anywhere but home in the winter) and it's way too long and just basically pretty much looks like a haystack. More bleargh.
Not looking forward to: That appalling task that is still on hold after all this time:
the dreaded bra shopping expedition
. Bleargh again.
Life, it seems, can't be all fun and games...
.