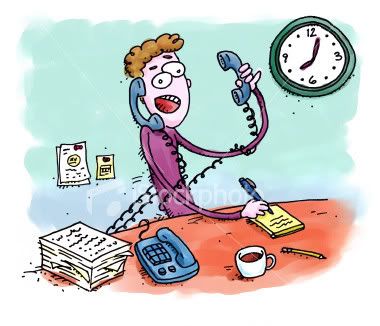 ... but unfortunately, here I sit at 5:30 on a Wednesday evening, still at work; I will be for the next foreseeable hours. No, I'm exaggerating, for the next hour or two, until this part of the report I'm working on is printed out. It's been a hellishly busy week so far. I've been working since 7:30 this morning and ate lunch at my desk, so I'm pretty much fed up by now.
Now, before anyone comments that I should leave this horrible place, let me add - for want of a better word - a disclaimer - I have the right word on the tip of my tongue(fingers?), but it won't come out; anyone have the right word? .
Ian
? You're a writer, you must know the word I'm looking for... I'm babbling aren't I? Or at the very least digressing - again. Blame overwork.
So.... If it seems that every time I talk about my job it's to complain, you're absolutely right. If a job is perfectly wonderful, what is there to say? So, yeah, I complain when I talk about my job.
This being said, I don't
hate
my job. Not by a long shot. It's not always hellish, far from it. Actually I quite like it most of the time, after all I wouldn't have stuck around 14 years otherwise, I'm not
that
much of a masochist. Actually I'm not any much of a masochist (and if that made no sense, I plead exhaustion). It's just that I have a tendancy to get frazzled under pressure (and when I'm PMSing) and hate everything about my work. Well, mostly some people. Temporarily. There are days like that. Waddaya gonna do?
Can anyone honestly say they love all aspects of their jobs all the time? Hmmmmm? Didn't think so.
This being said, if a long lost uncle died and left me his monumental fortune, I'd be out of here in a minute. But I'm sure most people can say that about their jobs.
It's the nature of the beast.
I'm one of those people who is easy enough to content. I have a job that pays very well for what it is, I usually leave it here at the end of the day, I have a roof in town and a cottage (with a dying septic system, but a cottage nevertheless), good friends, Mr. Jazz makes me happy. What else can I ask for?
I suppose I could ask for the perfect job too, but, being a pragmatist, I'm not really sure that even exists. And if it did exist, I'm sure most people would eventually find fault, or think that it's better somewhere else. As
Big Brother
says, "The grass is always greener on the other side of the fence because of all the shit that's spread over it". BB is quite the pragmatist too.
I'm not quite sure where I was going with this... um...
I guess that my job is ok all in all and that i'm fine with there being days when I loathe it. 'Cause it gives me something to blog about, dontcha know...
PS: How funny is it that when I googled images for "busy at work" up popped two illustrations by one of my favourite bloggers,
Paula
. I love serendipity...