This will be a difficult post to write. Mainly because it seems most of the words I'm typing are left handed. Who the hell knew so many words were typed mostly from the left side of the keyboard? Obscenely many.
'Cause true to form the Jazzer chopped up various appendages yesterday afternoon. Seriously, what's the point of being close to something sharp if you can't use it to slice and dice? Preferably slice and dice humanoid body parts.
In the time now known as ATFI (after the furnace incident), soot abounded in the Jazz household. So Jazz, who is not usually known for her housecleaning abilities, decided something must be done, starting with the kitchen. Idjit.
The Jazzer, you see, has a few glass fronted cabinets. The glass was greyish with soot. "Eureka! Jazz shouted, I shall venture forth and cleanse the cabinet glass of its soot!"
You see where I'm going here dontcha?
So she proceeded. One glass was taken out and cleaned. Well hey, huge discovery, the edges of the glass weren't sanded down. The Jazzer must be extra careful!
Glass 1 - cleaned and reinstalled
Glass 2 - cleaned and reinstalled
Glass 3 - ditto
You must realize by now that the legendary Jazz luck regarding sharp objects was quickly waning...
Glass 4 slipped. Jazz caught it and saved the day... well, except for the blood that had to be cleaned up.
Because the Jazzer? She um, sliced off a good part of the pad of her ring finger (or so she found out this morning). Oops...
Actually, I'm surprised I've made it to 46 with most of my body parts reasonably intact.
Said finger was wrapped repeatedly throughout the evening in several layers of gauze. As the bandage was bloody again this morning, it was decided that a visit to the clinic was in order.
When the doctor saw it, she said, "Well, it's too late for stiches". Then after cleaning added, "Not that there's anything to stitch... the flap of skin is gone..."
I can't help but wonder if it's sitting in a wine glass, unobserved, and that eventually I'll serve someone some wine, and there, floating on top will be the missing finger part.
So I was cleaned up. A pressure bandage was put on to stop the damn bleeding already, and I was sent on my merry way to return tomorrow so they can have another look at the wound.
Observations:
1) Peroxide is way cool for cleaning hurts. It doesn't hurt and the frothing action... well it looked like my finger had rabies...
2) The nurse said I was strange becuase 90% of people turn their heads away, rather than leaning in for a closer look. But seriously, I have a little crater in my finger now! No it's
not
disgusting, it's actually quite interesting.
3) Any idea I had of leading a life of crime are now on the back burner forevermore. I'm going to have myself a very distinct finger print there from now on.
4) typing without a left ring finger is hell. I'm getting a cramp.
In other news: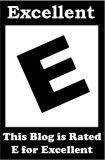 I have been awarded an E for excellence.
From BB and Ian and Dumdad no less (sorry, no links, typing is annoying enough - and slow enough - already).
I'm supposed to award it to 10 people - isn't that usually five? Are you doing this on purpose?
But I'm going to hold off until not so many words necessitate left handed typing - or I get a smaller bandage... The idea of setting up the links and telling my nominees all about it is more than my fingers can handle right now.
And yes, this is simply laziness diguised as a shamelss bid for sympathy.
And if you're not sympathetic enough, I might just post a pic of the mutilated finger. Sans bandage... Heh.