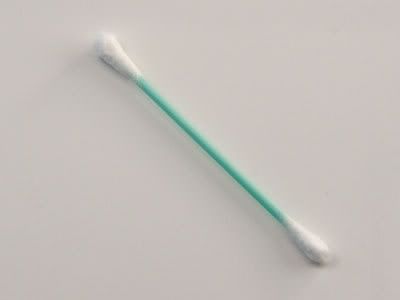 First it was cell phones, then coffe pots and baby bottles. Today, the latest in the Dangers of Technology file (please insert your own ominous drum-roll here):
The Q-Tip of DEATH!
(Sorry, the link is in French only...)
Last year, a 43 year old Montrealer woke up one morning with a horrible pain in his ear. Off he went to see his doctor who diagnosed an ear infection, and, I suppose prescribed some sort of medication.
The gentleman felt a if his ear was blocked, and in order to stop the sensation, he stuck a Q-tip in his ear. He perforated his eardrum, the infection wormed its way to his inner ear and from there to his brain. He developed meningitis. Two days later he was dead.
In my opinion, the man was an idiot.
Now they want Health Canada to force swab makers to show on their boxes that the swabs can be dangerous. I dunno, maybe a huge ear on the box with a barred red circle around it?
Now there are a few things I would like to know:


Statistically, what are the chances of my killing myself with a cotton swab?


What percentage, among all users of cotton swabs actually eventually perforate their eardrums?
People, the idea behind a cotton swab is not to push it in one ear and pull it out on the other side. That's not how it works.
And if you don't realize that, I'm not going to give you a lesson on the use of said instrument.
Granted, doctors are always saying that we should never stick anything smaller than a finger in our ear and that we should clean our ears with a washcloth.
But between that and asking Health Canada to force manufacturers to put disclaimers on their packaging?
If you're an idiot, live with it. Or die with it.