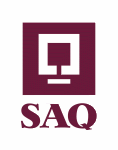 I never ever, not in a million years, imagined that I would one day be congratulating a government agency.
But today I must step on my pride, bury my cynicism and do just that.
The SAQ (Québec's liquor board) are getting rid of single use bags in their stores. Beginning in September, customers will be charged if they want bags. By the end of the year single use bags will be phased out altogether.
The SAQ have made reusable bags available since 2005, and they replace worn bags for free. Bravo to them for being the first to step up to the plate. Well bravo from me anyway, I've been using reusable bags for ages now, so I won't have to be making any changes in my habits.
Wait! Wait!... there is a bit of cynicism that refuses to be hidden away… it's pushing at my fingers… I'm sorry, I can't help it… The evil little voice must have its say. It can't help but wonder how much money the SAQ will save on bags and what proportion of those savings will be passed on to the consumer.
None?
Ya think?