.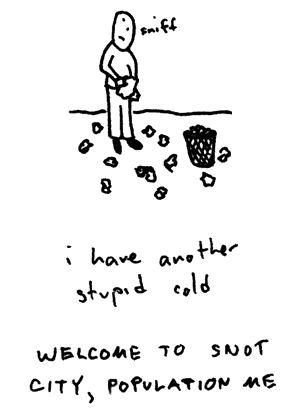 When you have a cold, and it's beginning to wind down and you catch another, nastier, one on top of the first.
When your nose and upper lip are so chapped from blowing your nose they actually crack and bleed.
When you figure you should just stay in bed and sleep but you know that there are a couple of rush jobs awaiting you at work that need to be done. Yesterday.
When you get up in the morning and it's -22 (-8F) and the windchill brings it down to about -30 (-22F)** and the weather guy says it's just going to get worse - with maximums of -24 in the next few days. I don't even want to convert that....
When you 're having a pity party and you forgot to invite anyone to commiserate.
God I annoy myself sometimes.
** How does that work? In Celsius there are only 8 degrees difference, in Fahrenheit there are 14. One of the great mysteries of our time. I do know the only place the two cross is at -40.
.