No New Years resolutions to share. Been there, done that, know much better now (insert heavy sigh here).
Still recuperating from the holiday. I'm always amazed at how much food is ingested during the holiday period. God knows we eat more than enough all the time in this country, but this time of year? Bleh. I'd ask what the point of it is, but I know there is none, so moving along.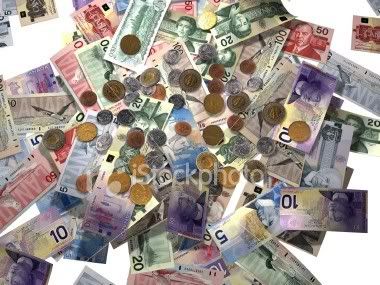 I do have an interesting statistic for y'all to ponder, from the front page of "La Presse", a Montreal French daily (they took it from a CCPA report you can find in PDF format
here
).
As of 9:45 yesterday, January 2, 2007, most of the presidents of the 100 biggest Canadian companies had made $38,010, the average annual wage in Canada.
If you make minimum wage ($15,931), they reached your salary at 12:40 on New Years day.
The poorest of these poor gentlemen ('cause there are no women in this select club) will manage to make it to the annual average wage only on January 4 at 12:39, the poor dear.
And on this scintillating note, Happy New Year everyone.
* Every time you comment on her blog, a note comes up saying: Cha-ching! Thanks for your two cents. The epitome of cute.

Photo from istockphoto.com. Don't we Canadians have pretty money, eh?